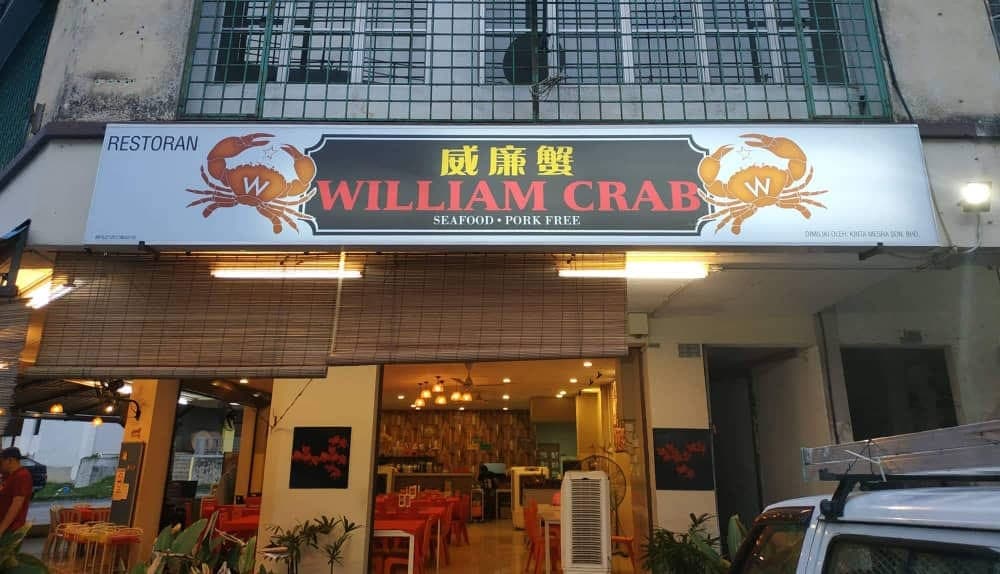 Image Source :
Facebook William's Crab Restaurant
Location:
2G Jalan Industri PBP 1/1 Taman Industri, Puchong 47100 Malaysia
Operating Hours:
Monday - Sunday : 12:00 PM - 3:00 PM & 6:00PM - 11:00 PM
Introduction :
William's Crab Restaurant, an exceptional seafood dining destination located in Puchong, Petaling District, Selangor. Renowned for its delectable crab dishes and warm hospitality, our restaurant offers an unforgettable culinary experience for seafood lovers and food enthusiasts alike. At William's Crab Restaurant, we take immense pride in serving the freshest and finest selection of crabs, sourced directly from local fishermen and reputable suppliers. Our team of skilled chefs expertly prepares each dish with meticulous attention to detail, ensuring that every bite is a burst of flavor and succulent indulgence.
Location and Accessibility :
William's Crab Restaurant is conveniently located at 2G Jalan Industri PBP 1/1, Taman Industri, Puchong, Selangor, Malaysia. Situated in the bustling Petaling District, our restaurant enjoys easy accessibility from various parts of the city. For those traveling by private vehicle, there is ample parking available near the restaurant, ensuring a hassle-free experience. If you prefer public transportation, there are several bus stops within walking distance, making it convenient for guests to reach us.
Operating Hours :
William's Crab Restaurant operates during two main time slots to cater to both lunch and dinner patrons. Our doors open at 12:00 PM, providing a delightful lunch option for those craving our mouthwatering crab dishes and other delectable seafood offerings. Whether you're looking to savor our signature crab creations or explore our diverse menu, our dedicated team is ready to serve you during the afternoon hours.
After a brief break, we reopen in the evening at 6:00 PM, extending our services until 11:00 PM. This allows guests to enjoy a relaxed and memorable dining experience for dinner. Whether you're planning a romantic date night, a celebration with loved ones, or a casual gathering with friends, our evening hours provide the perfect ambiance and culinary delights to make your evening truly special.
What to expect :
At William's Crab Restaurant, customers can expect an exceptional seafood dining experience in a warm and inviting ambience. From our signature crab dishes to our diverse menu of seafood offerings, our team of skilled chefs uses the freshest ingredients to create delectable and flavorful dishes that cater to all tastes and preferences. Our friendly and attentive staff is dedicated to providing top-notch service, ensuring that every customer feels valued and cared for. Whether you're looking for a romantic dinner, a family gathering, or a casual outing with friends, William's Crab Restaurant promises an unforgettable dining experience that will exceed your expectations.
Conclusion :
In conclusion, William's Crab Restaurant in Puchong, Selangor is a must-visit destination for seafood lovers seeking a delightful culinary adventure. With our commitment to serving the freshest crabs and seafood, combined with our inviting ambiance and exceptional service, we strive to create an unforgettable dining experience for every guest. Whether you're craving classic crab dishes or eager to explore innovative creations, our menu has something to satisfy every palate. Come and indulge in the flavors of William's Crab Restaurant, where exquisite seafood and warm hospitality come together to create memories that will last a lifetime.