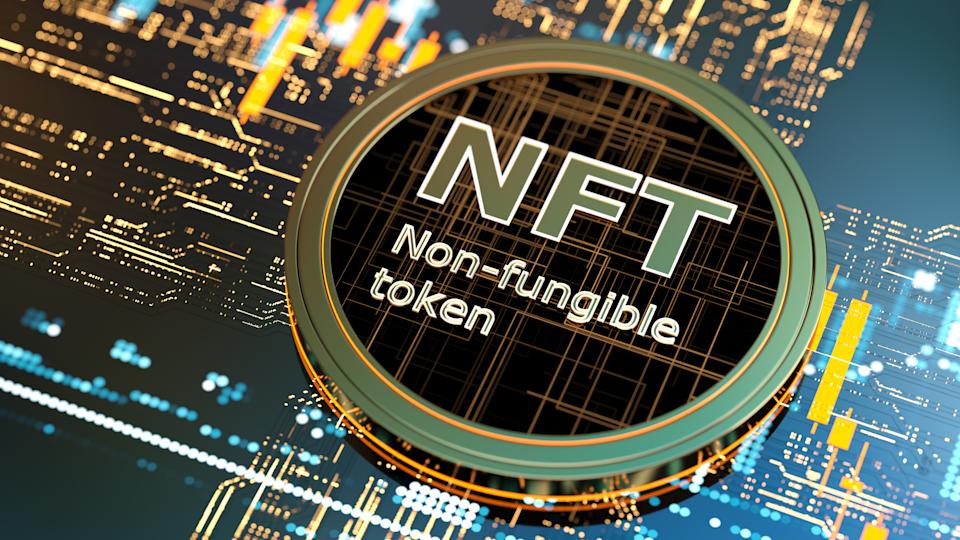 NFT (Non-Homogenized Token) has become increasingly popular in the blockchain investment market in recent years. It can give unique value to native digital assets, and also allow traditional physical assets to enter the virtual system, enhancing liquidity and transaction efficiency. Even the recently popular Malaysian singer Huang Mingzhi and the South Korean idol group, BTS Boy Band's management company have all entered the NFT market. What exactly is NFT? Why is it making waves in the field of art, music and games? What are the risks to be aware of when investing?
NFT (Non-Fungible Token) refers to "Non-Homogenized Token", which is a string of identification codes built on the existing blockchain and belongs to a kind of digital cryptocurrency, and can automatically execute protocols with Smart Contracts. (Image source: Getty Image)
What is NFT? Why is it unique?
NFT (Non-Fungible Token) refers to "Non-Homogenized Token", which is a string of identification codes built on the existing blockchain and is a kind of digital cryptocurrency.
Bitcoin (BTC) and Ether (ETH), which are commonly heard of in recent years, are "homogenized tokens" (FT, Fungible Token), each of which is inherently indistinguishable and has the same value and function.
Non-homogenized tokens (NFT) are irreplaceable and cannot be exchanged directly, and each currency is not of equal value and has a unique identification code.
A homogenized token (FT) can be split indefinitely. For example, if the price of a bitcoin exceeds NT$1.5 million, you can choose to trade 0.1 or 0.0001 bitcoins when trading, you do not have to trade the whole number.
Non-homogenized tokens (NFT) cannot be split into smaller units and must be traded as a full 1 NFT.
Because of the irreplaceable and indivisible nature, each NFT is unique and has great collector and commemorative value. Crypto artists can use them to create circulating digital collectibles on the blockchain, such as game props, digital artworks, tickets, etc. They can also be tied to real-life commodities, giving them characteristics such as anti-counterfeiting, non-reproducibility, and convenient trading.
Extended Reading" Art collection is only a part of NFT! Under the metaverse, it will become your digital doppelganger
Why is NFT making waves in the art, music and game fields?
NFT has emerged from blockchain technology and is making waves in the fields of art, music, gaming, e-deposit, and identity verification due to its unique and indivisible nature. Any non-homogeneous object that can be stored in digital form on a blockchain can be an NFT, including images, paintings, GIFs, videos, player cards, virtual characters, etc. Even a post on social media can become an NFT.
In the past, digital art, such as images and videos, could be easily copied, making it difficult to identify the ownership of the original files. The key to the innovation of NFT is to provide clear ownership of these "original digital assets", solving the problem of digital content, but still retaining the characteristics of digital files that can be viewed and accessed by others.
For real-life "traditional physical assets", if paintings, sculptures, etc. enter the digital cryptocurrency system through NFT, it can also greatly enhance the circulation and transaction efficiency of assets, strengthen the anti-counterfeiting properties, and preserve them in the block chain.
What digital assets or artworks have been sold at high prices by NFT?
Jack Dorsey, the co-founder and CEO of the social media Twitter, posted the world's first tweet on March 22, 2006, which read "just setting up my twttr". The post entered the blockchain a few days ago in the form of NFT and was eventually traded in Ether (ETH), worth the equivalent of US$2.9 million (about NT$80.73 million).
The recent outbreak of Newcastle Pneumonia has limited the trading of physical art, and has led to the rapid rise of NFTs. American 39-year-old digital artist Beeple's collection Everydays: The First 5000 Days was recently sold for US$69 million, making him one of the top three most valuable living painters.
In March this year, Taiwanese singer Zhou Xingzhe also released his first NFT music piece, "+E1", which finally sold for $28,000 in Ether, and Yahoo also launched an art-related NFT platform with a variety of products, such as invitations to New York Fashion Week Fall 2022.
Who has recently entered the NFT market?
The NFT craze is on the rise, and many creators and companies are looking at the NFT market. On November 7, Huang released a new video on his YouTube channel, announcing that he was entering the NFT market and that he would "take on the world with NFT" by putting 20 pictures and a song on his platform. He put up 20 pictures and a song on the platform to "take on the world with NFT". The song sold out in 3 hours, and he also took advantage of the situation to put "Heart of Glass" on the platform, earning over NT$23 million in just 12 hours, which triggered a heated discussion. The song was sold out in an hour, and he took the opportunity to put "Glass Heart" on the platform, earning more than 23 million NT in just 12 hours.
In addition, HYBE, the agency of the popular South Korean male idol group BTS, also sees the NFT business opportunity and announced on the 4th that it will cooperate with Dunamu, the operator of the cryptocurrency trading platform Upbit, to issue NFT goods of its artists, allowing fans to purchase and collect artist-related content in digital form in the future, and the news has become a topic of discussion among fans. Taking the members' cards as an example, the future NFT cards may not only contain unique photos or videos, but also music, sound and other contents, which will bring the existing fan economy to the NFT boom.
What risks should I pay attention to when investing in NFT?
NFT market is extremely volatile, when the commodity is speculated, the market will increase the voice and value; but if there is negative news, it may instantly fall. Although NFTs are mostly pre-vetted, there are still occasional copyright issues and non-limit situations are often heard.
When investing, you should choose a large and trustworthy trading platform, and also observe the seller's past trading record to see if it is good. When buying NFT works, you should also consider their liquidity to avoid a situation where no buyer is willing to take them over.
Source: tw.new.yahoo