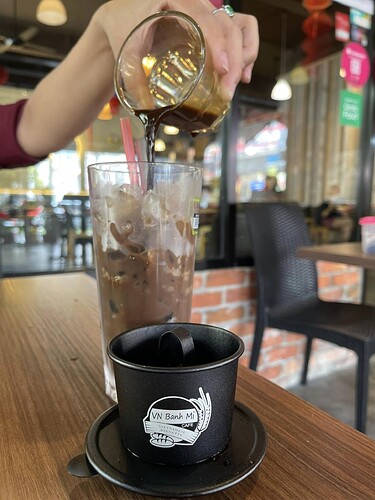 Image source :
Facebook Banh Mi Cafe
Location:
1, Jalan Puteri 7/10, Bandar Puteri, 47100 Puchong, Selangor.
Operating Hours:
Monday - Sunday : 10:00 AM - 10:00 PM
Introduction :
Banh Mi Cafe is a Vietnamese eatery that offers a unique dining experience reminiscent of the streets of Vietnam. The cafe's simplistic interior, with rattan baskets hanging from the ceiling, creates a cozy and authentic ambience. The seating area, arranged in two rows, is designed to mimic roadside dining in Hanoi, with no-frills tables packed close together to maximize seating capacity. This charming cafe is the perfect destination for those looking to enjoy delicious Vietnamese cuisine in a casual, laid-back environment.
Location and Accessibility :
Banh Mi Cafe is located at 1, Jalan Puteri 7/10, Bandar Puteri, in the bustling town of Puchong, Selangor. The café is easily accessible by car, and ample parking space is available nearby. For those traveling by public transport, the cafe is just a short walk from the Bandar Puteri LRT station. Its central location in the heart of Bandar Puteri makes it a convenient dining spot for locals and visitors alike.
Operating Hours :
Banh Mi Cafe is open daily from 10am to 10pm, offering a convenient dining option for breakfast, lunch, and dinner. Whether you're craving a hearty Banh Mi sandwich or a warm bowl of pho, the cafe's flexible opening hours make it easy to satisfy your cravings at any time of the day.
What to expect :
As the customers visiting Banh Mi Cafe can expect to be treated to a delicious and authentic Vietnamese dining experience. Trademark Vietnamese staples like banh mi, spring rolls, and beef noodle soup are customer favorites, offering a range of textures and flavors to suit any palate. The crispy baguette, fluffy interior, and rich beef stew of the beef banh mi make for a particularly satisfying meal. The spring rolls are perfect as appetizers or snacks, while the beef noodle soup is a comforting and filling option. Don't forget to try the Vietnamese drip coffee, which is known for its strong caffeine undertones and is served with condensed milk on the side, allowing you to customize the sweetness to your liking. Overall, customers can expect a cozy ambience, friendly service, and delicious Vietnamese cuisine at Banh Mi Cafe.
Conclusion :
In nutshell, Banh Mi Cafe offers a unique and authentic Vietnamese dining experience in Puchong, Selangor. With a range of delicious and satisfying Vietnamese staples, friendly staff, and cozy ambience, Banh Mi Cafe is the perfect destination for those looking to enjoy a taste of Vietnam. Whether you're in the mood for a hearty sandwich, a comforting bowl of soup, or a caffeine-packed coffee, Banh Mi Cafe has something for everyone. So, head on over to Banh Mi Cafe to satisfy your cravings for delicious Vietnamese cuisine and experience the flavors of Vietnam in the heart of Puchong.