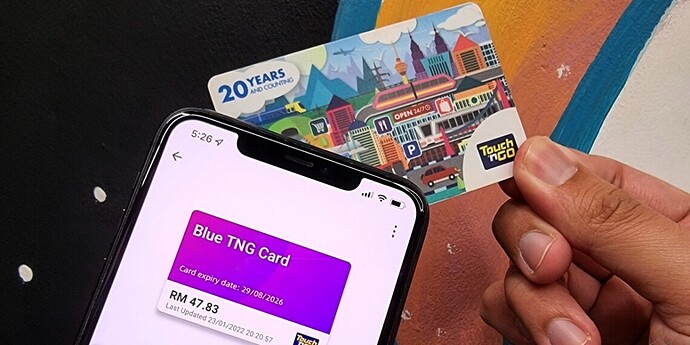 After missing its initial deadline, Touch 'n Go (TNG) has assured that it will be introducing a new physical TNG card that will allow users to top up directly via eWallet. According to TNG Digital CEO Ignatius Ong, the new TNG card with Near Fields Communications (NFC) technology will be launched in the next few weeks.
He said the new card will allow users to easily top up their card using an NFC-enabled port via the TNG eWallet application. This should be similar to Hong Kong's Octopus card where users can top up by tapping it on the back of an NFC-enabled smartphone. As mentioned last year, existing TNG cards do not support the feature and you will need to switch to a new card. Ignatius said the current TNG card that has been in circulation in the last 20 years does not have the capability to top up from the eWallet as it requires a specific card reader to do the transaction for security reasons. TNG has yet to reveal any costing details for the new NFC-enabled card.
In 2018, TNG previously offered the option to reload the physical card via the eWallet but the execution was terrible. After performing the "top-up", you will need to go to a specific kiosk to "transfer" the credit to the actual physical card. Following public backlash, the card reload feature on the eWallet was removed.
With the introduction of RFID for highways and the goal to achieve Multi-Lane Free Flow (MLFF) by 2025, the use of physical TNG cards is slowly being phased out. To avoid the hassle of maintaining separate balances, it would make more sense to expand the PayDirect feature to more use cases including public transport. With PayDirect enabled, tapping your TNG card will deduct your eWallet balance instead of your physical card. At the moment, it is implemented on most tolled highways in the Klang Valley and at selected car parks.
Besides introducing a new upgraded TNG card, Touch 'n Go also has plans to introduce a Visa Prepaid card that's tied to the TNG eWallet. The card would allow users to spend with their TNG eWallet balance at any shops worldwide that accept credit or debit card payments.
source: soyacincau