PETALING JAYA: Hardly a week into the new year and Malaysia is once again rocked by a political upheaval with the sudden sacking of Tan Sri Annuar Musa as the Barisan Nasional secretary-general.
His dismissal marks another indication that Umno is split in its support for Parti Pribumi Bersatu Malaysia.
He is replaced by Datuk Seri Ahmad Maslan but the removal raised questions if the move was constitutional as Barisan component party MCA claimed it was not consulted.
The sacking came at a time when Umno's top leaders and division chiefs were deeply divided as to whether Umno should continue to work with Bersatu.
Annuar had been at the forefront opposing the constant call by party president Datuk Seri Dr Ahmad Zahid Hamidi to cease political cooperation with Bersatu and pull out from the Perikatan Nasional government.
In reports that went viral yesterday, Annuar, the Barisan Federal Minister and Umno Ketereh division chief, was said to have been sacked from his position by Ahmad Zahid, the Barisan chairman.
Later in the day, Umno secretary-general Ahmad issued an official statement that he is replacing the former as the secretary-general, despite the absence of an official statement on the sacking.
Annuar was also removed as Muafakat Nasional secretary, according to such reports.
When contacted, Annuar confirmed he has yet to receive any official letter or be informed by Ahmad Zahid of his sacking.
"I have not been informed orally or in writing. I found out from media reports. I will only issue a statement about my sacking on Wednesday (today) after the Cabinet meeting, " said Annuar.
At the Umno divisional meetings over the weekend, Ahmad Zahid publicly proposed that Umno pull out from cooperating with the Perikatan Nasional government, and not work with Bersatu in the next general election.
The 191 Umno divisions that met last weekend were divided over Ahmad Zahid's proposal.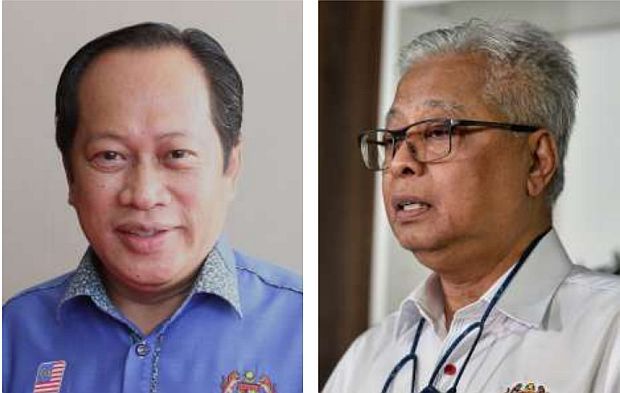 Although there were reports that most divisions supported Ahmad Zahid's call to boycott Bersatu, checks with Umno divisions with leaders who hold positions in the government said it wants to continue to be part of the Perikatan government.
In a meeting called by Ahmad Zahid yesterday with division chiefs, sources said there were some who criticised Ahmad Zahid for his proposal to leave Perikatan to force snap polls.
Ahmad Zahid also denied reports he had called upon the Umno MPs to withdraw their support for the Perikatan government during the meeting to force a general election in February.
Prior to news of his sacking by Ahmad Zahid, Annuar had stated openly on his Facebook page on Jan 4 that he was willing to be sacked from the party to uphold Umno's supreme council decision of "No DAP, No Anwar."
"I insist on Umno heading a cooperation between Malay and Muslim political parties and I am against the breakup of the Malays. If you want to sack me, please go ahead, if that is the way to get Umno to support DAP and Anwar, " said Annuar on Facebook.
Umno will be holding its supreme council meeting tonight to discuss the matter of whether it will continue to support the Perikatan government under Muhyiddin.
The sacking of Annuar further sets the scene for a showdown between Umno and Bersatu, which threatens the Perikatan government.
Separately, Ahmad claimed Annuar was not sacked.
"I am just replacing him. That is all, " said the Pontian MP to reporters after meeting the party's division chiefs at its headquarters at PWTC here yesterday.
He explained that normally those who are appointed secretary-general of Umno would also hold the post of Barisan secretary-general.
"I believe that was among the reasons why he was replaced, " added Ahmad.
Asked if the replacement was because Annuar was seen as "pro- Bersatu", Ahmad declined to comment.
He said party president Ahmad Zahid thanked Annuar for his contribution as Barisan and Muafakat secretary-general.
In a separate statement, Ahmad explained the party president held meetings with 189 division chiefs and the Wanita, Youth and its Puteri wings as required by the party Constitution.
Only the Tanah Merah division, which has been suspended, and Tuaran will hold their respective meetings this week, he added.
The meetings were held in order to refine the resolutions that would be brought up at the party's annual assembly.
"Since there was a need to adhere to the current (Covid-19) standard operating procedure, the meeting with the division chiefs is part of an alternative to the convention proper, " he explained.
"The meeting is a common practice for the party leadership to listen and refine the voices of the grassroots before the motions are officially brought forward to the party's supreme council and the annual general meeting for it to be debated and decided, " added Ahmad.
In Kuala Lumpur, Bernama reported that Umno vice-president Datuk Seri Ismail Sabri Yaakob said the motion to reject political cooperation between Umno and Bersatu is not the only motion moved by Umno divisions, which is to be considered by the party's Motion Committee for debate at the party General Assembly scheduled to take place at the end of this month.
He added there were many other motions such as the one to reject cooperation with DAP and PKR, another on "No DAP No Anwar', as well as the motion to strengthen cooperation with PAS and Muafakat Nasional.
"There are many motions, not just one. The motions moved by the divisions will be brought to the party's Supreme Council (MT) meeting (Wednesday) before they pass it on to the (Motion) committee to be considered, " he told a press conference at Wisma Pertahanan here yesterday.
He added Umno has a clear constitution as well as rules and during divisional delegates meetings, party members are free to voice their views and opinions on the party.
Source from: The Star