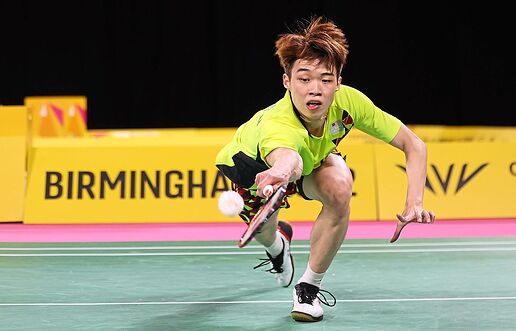 CAN men's singles shuttler Ng Tze Yong crown his glorious run by winning the gold medal?
It will indeed be a spectacular ending to what has been a great tournament so far for the 22-year-old debutant.
Standing in the youngster's way today is India's world No. 10 Lakshya Sen, who is equally hungry to nail his first Commonwealth Games victory.
Yesterday, world No. 42 Tze Yong pulled off another stunning win over Lakshya's compatriot, world No. 13 K. Srikanth in the semi-finals at the National Exhibition Centre, proving that his mixed team final victory over the Indian was no fluke.
However, Tze Yong had to come from behind this time but he fought brilliantly after a sluggish start to emerge with a 13-21, 21-19, 21-10 win.
"This has been my best tournament so far," beamed Tze Yong.
"My performance has been really good. Srikanth probably was playing with more pressure as he was expected to win. I managed to handle the pressure better as I was the underdog."
Tze Yong has vowed to give his all in today's final.
"I'm feeling really motivated and will fight hard in the final. Again, I am not the favourite to win and I feel if I can get the gold, then it's like a bonus," he added.
Tze Yong will face arguably his toughest test against All-England finalist Lakshya whom he has never beaten in their past two meetings at the Indian Open in January and the lower-tier 2019 Bangladesh International Challenge.
The Malaysian though seems to be in the form of his life and had already proven that an inferior head-to-head record was no barrier for him after overcoming Srikanth whom he had also never beaten before the mixed team final.
Lakshya will not underestimate Tze Yong after seeing his compatriot come second best to the Malaysian and it looks to be a fascinating encounter.
The whole of Malaysia will be praying that the Johor-born youngster can cap his fairy-tale run with the coveted gold medal.
Source: The Star