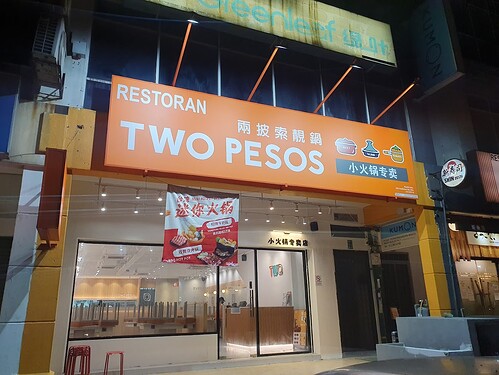 Image Source:
Google Review
Location:
10g, Persiaran Puteri 1, Bandar Puteri, 47100 Puchong, Selangor.
Operating Hour:
Mon-Sun 12:00PM - 11:00PM
Introduction:
Welcome to Two Pesos Puchong, a culinary destination that brings the essence of Taiwan's hot pot culture to the heart of Puchong. The restaurant offers a unique and interactive dining experience that combines flavourful ingredients with a vibrant atmosphere.
What to Expect:
At Two Pesos, expect a delightful journey through the world of Taiwanese hot pot. Choose from a variety of fresh ingredients, including thinly sliced meats, vegetables, and delectable broths, to create your own customized hot pot. The restaurant provides a communal and lively setting where you can cook, dip, and savor each bite with friends and family. The experience is not just about the food; it's about the joy of sharing a meal and creating memorable moments together.
Conclusion:
In conclusion, Two Pesos Puchong is more than just a place to eat; it's a place to bond over a delicious and interactive dining experience. With its dedication to quality ingredients and a fun, communal atmosphere, the restaurant ensures that every visit is a memorable celebration of flavours and togetherness.