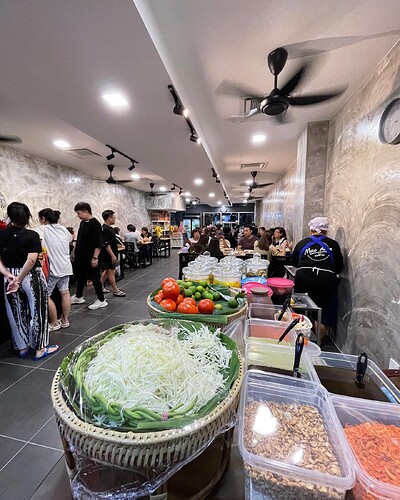 Image Source :
Mae Auan Thai Restaurant
Location:
No. 67, Jalan Bandar 1, Pusat Bandar Puchong, Puchong, Malaysia
Operating Hours:
Monday - Wednesday || Friday - Sunday : 11:00am - 10:00pm
Thursday : Closed
Introduction :
Mae Auan Thai Restaurant is a delightful Thai dining establishment that offers an authentic taste of Thailand in a warm and welcoming atmosphere. This restaurant is known for its flavorful and aromatic Thai dishes that showcase the rich culinary traditions of Thailand. From classic favorites like Pad Thai and Green Curry to lesser-known regional specialties, Mae Auan Thai Restaurant caters to a diverse range of palates.
Location and Accessibility :
Mae Auan Thai Restaurant is conveniently located at No. 67, Jalan Bandar 1 in Pusat Bandar Puchong, Malaysia. Situated in the heart of Puchong, this restaurant enjoys excellent accessibility and is easily reachable by various modes of transportation. Whether you're traveling by car, public transportation, or taxi, Mae Auan Thai Restaurant is easily accessible and well-connected. Its central location makes it a convenient dining option for both local residents and visitors alike.
Operating Hours :
Mae Auan Thai Restaurant welcomes guests to indulge in its delightful Thai cuisine during its operating hours. From Monday to Wednesday and on Fridays to Sundays, the restaurant opens its doors from 11:00am until 10:00pm, offering ample time for lunch, dinner, or a delightful Thai culinary experience at any time in between.
What to expect :
Customers visiting Mae Auan Thai Restaurant can expect an authentic Thai dining experience filled with delicious flavors and warm hospitality. The restaurant takes pride in serving a wide range of traditional Thai dishes prepared with fresh ingredients and authentic recipes. From classic favorites like Pad Thai and Green Curry to lesser-known gems like Som Tam (Papaya Salad) and Tom Yum Soup, the menu offers a diverse selection to cater to various preferences. Customers can look forward to well-balanced flavors, aromatic herbs and spices, and beautifully presented dishes that capture the essence of Thai cuisine. The restaurant also strives to provide a comfortable and welcoming ambiance, creating a pleasant dining environment for customers to enjoy their meals.
Conclusion :
In conclusion, Mae Auan Thai Restaurant is a delightful destination for Thai food enthusiasts seeking an authentic and satisfying dining experience. With its prime location, extensive operating hours, and dedication to serving delicious Thai dishes, the restaurant offers convenience and culinary excellence to its customers.