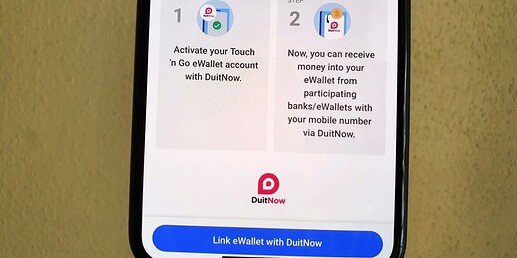 Shortly after increasing its maximum wallet size to RM20,000, Touch 'n Go eWallet (TNG eWallet) has activated DuitNow, a feature that allows users to receive funds from online bank accounts. This means a person who's using Maybank, CIMB, RHB or other DuitNow supported platform are now able to send money instantly to a TNG eWallet user.
TNG eWallet now has an "Account Number"
With this new update, each TNG eWallet account will be provided with a 12-digit DuitNow account number. This comes as a surprise as DuitNow was supposed to make fund transfers easier by using your mobile or IC number instead of a hard-to-remember account number.
You can find your TNG eWallet account number on the profile page in the app or on the receive funds section under the "Transfer" feature.
At the time of writing, it appears that only selected online banking apps can accept "account numbers" for DuitNow transfers. As shown below, the MAE app from Maybank at the moment could only accept mobile number, IC number, passport number, Army/Police ID and Business Registration Number. However, RHB's DuitNow feature on the app does have the "Bank Account Number" option.
The experience of sending money to a TNG eWallet account number is similar to the old school way of performing an interbank fund transfer. You'll have to select the "Bank" which is "Touch N Go Digital", enter the account number and provide a description for the transaction.
Link Touch 'n Go eWallet to your phone number
If the account number method is too complicated, thankfully, there's an easier way to do so. To get started, you'll have to link your Touch 'n Go eWallet to your registered mobile number.
To do this, just go to your TNG eWallet profile section and tap on the "DuitNow" option. As shown above, there's a "Link eWallet with DuitNow" where you set TNG eWallet as your default account for receiving funds with your mobile number. If you've linked it to a different bank previously, you can still switch to TNG eWallet and the request will require SMS verification.
Once that's done, you can start receiving funds from any DuitNow ready online banking apps with just your phone number. If the sender already has you on their contact list, they can just search for your name and hit transfer.
The funds will be transferred instantly and there's no admin fee or charges. According to TNG's FAQ, users can receive funds up to their existing eWallet limit which can go up to RM20,000 if you've activated the Premium tier.
Take note that you must verify your TNG eWallet account if you wish to receive funds with your phone number. Unverified TNG eWallet users are able to receive money using the account number method but they are capped up to a maximum wallet size of RM200.
TNG eWallet's DuitNow feature currently works only for receiving funds. At the moment, you can't send funds from TNG eWallet to other bank accounts via DuitNow. However, with the new Go+ investment feature, TNG eWallet users can cash out with zero fees to a bank account but it will take at least one business day to process. Last week, TNG has revealed that Go+ is finally Shariah-compliant.
Take note that DuitNow is different from DuitNow QR, which is the National QR code standard. With DuitNow QR, retail businesses can display just one QR code to accept payments from TNG eWallet, Grab, Boost, ShopeePay and other participating eWallet and online banking apps. At the moment, DuitNow QR on TNG eWallet is only enabled to make payments and you still can't use it for cross-platform wallet to wallet transfers.
Source: SoyaCincau