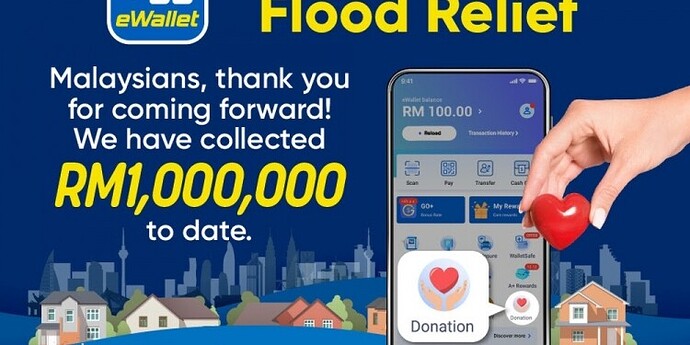 Touch 'n Go eWallet (TNG eWallet) has revealed that its users have donated RM1 million in total so far for flood relief efforts. However, there are still more flood victims that require help, and non-governmental organisation (NGO) are still on the ground to provide assistance with the cleanup and recovery.
In case you didn't know, the TNG eWallet app has a donation feature where you can donate from as little as RM0.01. For the flood relief efforts, there are a total of 10 organisations that you can donate to which include Global Peace Mission Malaysia, Islamic Relief Malaysia, Malaysian Red Crescent Society, Mercy Malaysia, Pertubuhan I-Insan, Pertubuhan Kebajikan Dana Kita, Yayasan Islam Darul Ehsan, Yayasan Maghfirah, Yayasan Perintis Malaysia and Yayasan Taiwan Buddhist Tzu-Chi Malaysia.
How to donate via TNG eWallet?
To make a donation, launch the TNG eWallet app and then tap on Donation on the home screen. If you don't see it, you can click on "more. The Donation page has a tab "Flood Relief" where it lists out all organisations involved with the current flood relief efforts. Then Tap donate, enter the amount and "Flood" as the payment details.
If you're viewing this from a desktop browser, you can view the list of organisations here and scan the QR code from your TNG eWallet app to contribute.
source: SoyaCincau