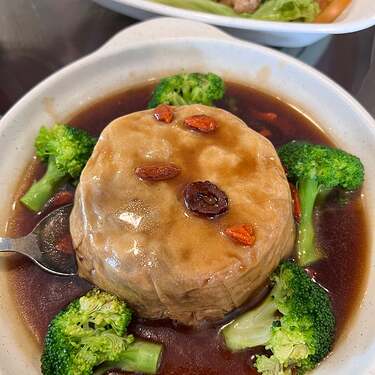 Location:
19&21, Jalan Kenari 19a, Bandar Puchong Jaya, 47100 Puchong, Selangor
Operating Hour:
Monday-Sunday 11 am–2:45 pm, 6–9:45 pm
Introduction:
Welcome to Tian Xiang Yen Vegetarian Restaurant in Puchong, where culinary innovation meets wholesome goodness. Our restaurant stands as a testament to the art of vegetarian cuisine, offering a diverse menu that captures the essence of vegetarian flavors from various cultures. Nestled in the heart of Puchong, our eatery invites you to experience the richness of plant-based dining.
What to Expect:
At Tian Xiang Yen, expect a gastronomic adventure that challenges the boundaries of vegetarian cooking. Our menu features a creative array of dishes crafted from fresh, locally sourced ingredients. From savory stir-fries to exotic vegetable-based delicacies, every dish is meticulously prepared to satisfy both the palate and the soul. Whether you're a dedicated vegetarian, a curious food enthusiast, or someone just looking for a healthier alternative, our restaurant promises a dining experience that is both delightful and nutritious.
Conclusion:
In conclusion, Tian Xiang Yen Vegetarian Restaurant @ Puchong offers more than just a meal; it offers a holistic culinary experience. With our commitment to quality, taste, and innovation, we aim to redefine your perception of vegetarian cuisine. Join us on a journey where vegetables are transformed into delectable masterpieces, and where your dining experience is not only good for your health but also a celebration of flavors. Come, indulge, and discover the vibrant and diverse world of vegetarian delights at Tian Xiang Yen.