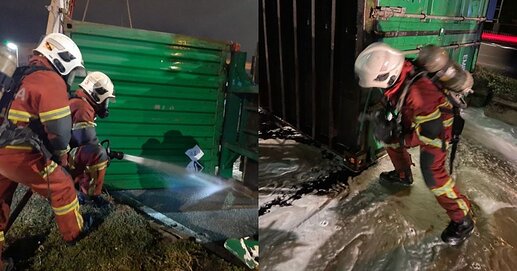 Subang Jaya, 10 May 2010 - A tugboat carrying chemicals suddenly overturned while in motion, causing corrosive liquid to spill out onto the road and eventually required 7 hours of fire-fighters' time to clean it up.
The incident took place at 9:16pm last night on USJ8 Kewajipan Road, Subang Jaya, towards Subang Airport, and the vehicle involved was a 20-ton tractor trailer.
A spokesman for the Snow State Fire and Rescue Department pointed out that the authorities sent at least 13 firemen with a water tanker to the scene after receiving the report to carry out a series of operations.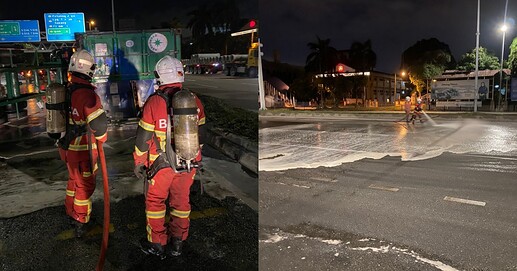 "The rescue workers first flushed the road with a large amount of water, and later, with the assistance of members of the Port Klang Hazardous Chemicals Treatment Team (HAZMAT), confirmed that the liquid dumped was a corrosive Category 8 chemical."
He revealed that the authorities then sprayed sodium ash (Soda Ash) on the affected roads and then diluted the poured chemical with a large amount of water.
"The operation ended at 4:00 a.m. today, and the firemen returned to the bureau after that."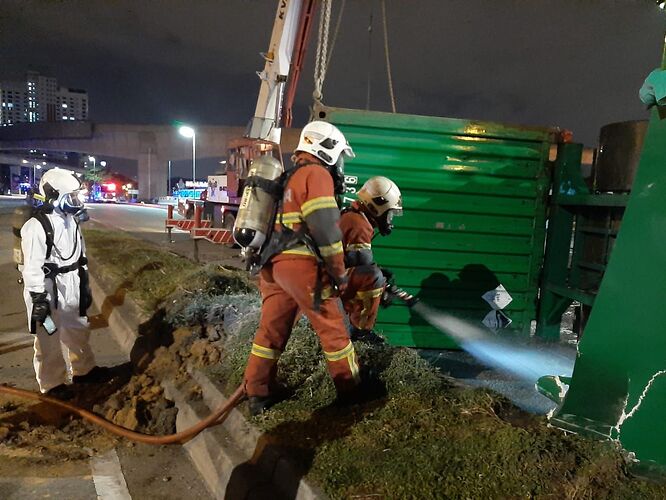 Source : 东方