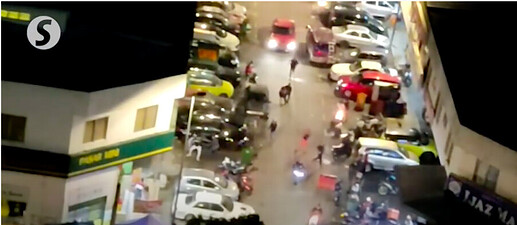 AMPANG: A total of 15 men, including a 17-year-old student, were detained following a fight between two gangs in Pandan Indah here.
The suspects, who were armed with motorcycle helmets and wooden sticks, were fighting over control over the area in Lembah Jaya here.
Ampang Jaya OCPD Asst Comm Mohamad Farouk Eshak said police rushed to the scene and arrested the suspects aged from 17 to 35 at about 10.30pm on Monday (Dec 28).
"Four of the suspects had past records for theft and rioting. One of them was even previously arrested under the Prevention of Crime Act (Poca)," he said on Tuesday (Dec 29).
The fight started at Lembah Jaya and continued in front of a restaurant in Pandan Indah, he added.
"Five of the suspects sustained injuries to their heads and bodies.
"We are still in the midst of tracking down the remaining suspects," he said.
The suspects have been remanded until Friday (Jan 1), he added.
ACP Farouk also reminded the public not to take the law into their own hands or spread unverified information.
"Those with information on the case can contact Ampang Jaya police at 03-4289 7222 or the nearest police station," he said.
Source: The Star