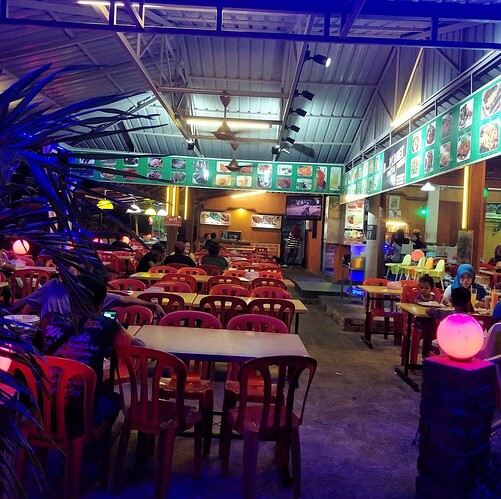 Image Source :
D.Planet Tomyam Potek
Location:
LOT90553, Jalan Kampung Kuala Sungai Baru, Kampung Kuala Sungai Baru, Puchong 47100 Malaysia
Operating Hours:
Monday - Sunday : 5:00 PM - 11:00PM
Introduction :
D'Planet Tomyam Potek is a culinary gem nestled in the heart of Puchong, Malaysia. With its vibrant and inviting ambiEnce, this restaurant is a haven for Thai cuisine enthusiasts. Known for its tantalizing tomyam dishes and aromatic flavors, D'Planet Tomyam Potek takes you on a culinary journey through the rich and authentic tastes of Thailand. From the comforting warmth of their signature tomyam soup to a delectable array of stir-fried delights, every dish is crafted with meticulous attention to detail and the finest ingredients.
Location and Accessibility :
Located at LOT90553, Jalan Kampung Kuala Sungai Baru in Puchong, Malaysia, D'Planet Tomyam Potek offers a convenient and accessible dining experience. Situated in the charming neighborhood of Kampung Kuala Sungai Baru, the restaurant is easily reachable by both private and public transportation. Whether you're driving or taking a taxi, the restaurant's location ensures a hassle-free journey.
Operating Hours :
D'Planet Tomyam Potek operates from Monday to Sunday, offering its delightful culinary delights during the evening hours. The restaurant welcomes guests from 5:00 PM to 11:00 PM, providing ample time for diners to indulge in their favorite Thai dishes. Whether you're craving the bold and spicy flavors of tomyam or the aromatic goodness of potek, D'Planet Tomyam Potek ensures that your taste buds are treated to a memorable dining experience.
What to expect :
Customers can expect a delightful dining experience at D'Planet Tomyam Potek. With its focus on Thai cuisine, they can anticipate a menu filled with flavorful dishes, aromatic spices, and a combination of bold and comforting flavors. The restaurant takes pride in serving authentic Thai cuisine, prepared with high-quality ingredients and traditional cooking techniques. From the signature tomyam soup to the savory potek dishes, customers can expect a wide range of options that cater to different preferences and spice levels. Additionally, they can look forward to friendly and attentive service, ensuring a pleasant and satisfying dining experience…
Conclusion :
In conclusion, D'Planet Tomyam Potek is a must-visit restaurant for those craving authentic and delicious Thai cuisine. With its convenient location and inviting ambience, customers can easily indulge in a flavorful culinary journey. From the delectable tomyam soup to the enticing potek dishes, every bite is a burst of Thai flavors that will leave customers craving for more.