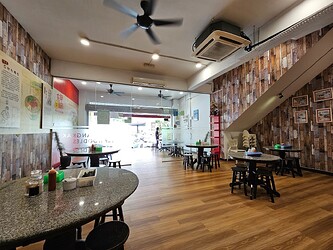 Source : Google Review
Location: 46-G, Jalan Puteri 1/2, Bandar Puteri, 47100 Puchong, Selangor
Operating Hours: Monday to Sunday 9:30 AM - 8:45 PM
Introduction:
Step into the world of rich and savoury flavours at Tangkak Beef Noodles in Puchong. The restaurant brings you an authentic taste of Tangkak, renowned for its delectable beef noodles that have been passed down through generations. It is a must-visit destination for those craving a hearty and satisfying meal.
What to Expect:
At Tangkak Beef Noodles, expect to savour the soul-warming goodness of our signature beef noodles. The broth is meticulously prepared, simmered to perfection with a blend of aromatic herbs and spices that infuse the dish with a burst of flavours. Whether you prefer tender beef slices or succulent beef balls, our noodles are complemented with a tantalising range of toppings, ensuring an unforgettable dining experience.
Conclusion:
Overall, Tangkak Beef Noodles Puchong offers a journey through the nostalgic flavours of Tangkak's famous culinary tradition. With its authentic taste, warm ambiance, and attentive service, our restaurant guarantees a heartwarming and delightful dining experience.