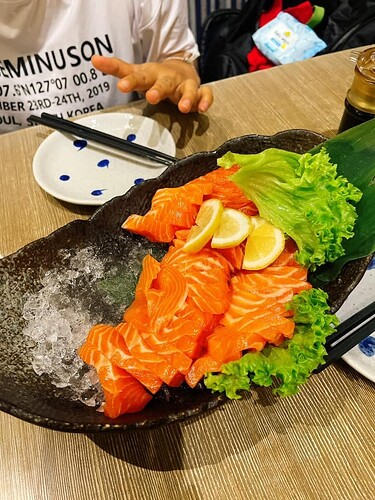 Image Source :
Facebook Aoki Tei
Location:
G 40, Jalan Kenari 5, Bandar Puchong Jaya 47170 Petaling Jaya, Selangor, Malaysia
Operating Hours:
Monday - Sunday : 11:30 PM - 2:30PM & 6:30 PM - 10:00PM
Introduction :
Aoki Tei is a renowned Japanese restaurant in Puchong that offers an exquisite dining experience for all sushi and sashimi lovers. With its authentic Japanese ambiance and skilled chefs, Aoki Tei aims to deliver the true essence of Japanese cuisine to its customers. Whether you're craving fresh and delicate sushi rolls, perfectly grilled yakitori, or flavorful bowls of ramen, Aoki Tei has a wide array of delectable dishes to satisfy your Japanese food cravings.
Location and Accessibility :
Located at G 40, Jalan Kenari 5 in Bandar Puchong Jaya, Aoki Tei is conveniently situated in the heart of Petaling Jaya, Selangor, Malaysia. The restaurant enjoys a prime location with easy accessibility, making it a popular dining destination for both locals and visitors. Whether you're arriving by car or public transportation, Aoki Tei is easily reachable. There are parking spaces available nearby, ensuring a hassle-free experience for diners with their own vehicles. For those using public transportation, various bus stops and LRT stations are within walking distance, providing convenient access to the restaurant.
Operating Hours :
Aoki Tei welcomes guests throughout the week, offering a delightful dining experience during their operating hours. From Monday to Sunday, the restaurant opens its doors from 11:30 AM to 2:30 PM for a delectable lunch service. In the evening, Aoki Tei reopens at 6:30 PM, allowing patrons to indulge in a delightful dinner until 10:00 PM.
What to expect :
Customers visiting Aoki Tei can expect an authentic Japanese dining experience that combines delectable cuisine, warm hospitality and a cozy ambience. With a focus on quality and freshness, Aoki Tei is known for its wide selection of sushi, sashimi, grilled dishes, and other traditional Japanese specialties. Guests can anticipate meticulously crafted dishes prepared by skilled chefs using the finest ingredients. The restaurant's commitment to exceptional service ensures that customers are well taken care of and their dining preferences are accommodated. Aoki Tei strives to create a memorable experience for every guest, with a menu that caters to different tastes and dietary preferences. From the moment customers step through the door, they can expect a satisfying culinary journey that embodies the essence of Japanese cuisine.
Conclusion :
In conclusion, Aoki Tei offers a delightful Japanese dining experience that captivates customers with its authentic flavors, attentive service, and inviting atmosphere. From the diverse menu featuring an array of traditional Japanese dishes to the skillfully crafted culinary creations, Aoki Tei satisfies the cravings of both sushi enthusiasts and lovers of Japanese cuisine.