HIGH CLEANING COSTS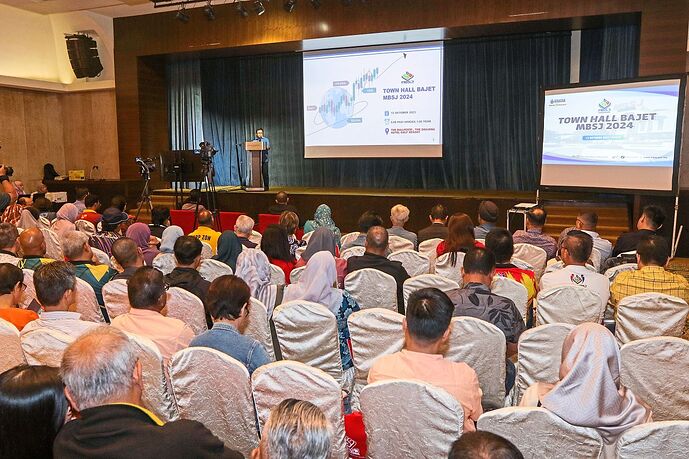 SUBANG Jaya City Council (MBSJ) is set to face a shortfall of RM5.2mil for 2024, says mayor Datuk Mohd Fauzi Mohd Yatim.
"The city council's position for its 2024 budget shows a deficit of RM5.2mil, primarily due to increased cleaning costs.
"The cost of waste management has surged because the tipping fee for domestic waste will increase to roughly RM3mil in 2024," he said.
Mohd Fauzi said MBSJ had proposed a total budget of RM336,234,000 for next year, against a revenue target of RM331,035,000.
"Of this, RM222.73mil or 66% is for operating expenditure and RM113.5mil or 34% is for development expenditure," he said during MBSJ's town hall 2024 budget session at a hotel in Shah Alam.
Some 150 individuals, including stakeholders and residents' representatives within the Subang Jaya administrative area, were present to provide feedback on MBSJ's 2024 budget.
Mohd Fauzi said budget planning for projects and programmes would be oriented towards physical infrastructure projects (Go Physical), digitalisation efforts (Go Digital), a people-centric approach and economic revitalisation.
Through the Safe City feature which fell under Go Physical, the mayor said 23 initiatives were successfully implemented in 2023.
"These initiatives encompass programmes and infrastructure projects, including the upgrade of pedestrian walkways such as the 'walkable city' programme on Persiaran Indera in Pusat Bandar Puchong which cost RM881,000," he said.
Mohd Fauzi said MBSJ had devised 12 Safe City action plans for 2024, involving a budget allocation of RM4.95mil.
"Among the initiatives are placemaking in commercial areas of PJS11 and SS15 (back lane and side lane) and construction of concrete walls along the main drain of Jalan TK2/11, Taman Kinrara 2 in Puchong."
MBSJ had also allocated RM2.65mil for Smart City features under Go Digital.
Of this, RM1.5mil would be used by the IT Department for closed-circuit television (CCTV) installation, app upgrades and procurement of smartphones for enforcement officers, he said.
Under the same initiative, RM200,000 had been allocated for managing the EIS-Smart Topography system and RM950,000 for signage, lighting upgrades and electrical work in various locations, he added.
On the Healthy City action plan, Mohd Fauzi said RM800,000 had been set aside for initiatives like disease prevention, animal control and sanitation measures.
Meanwhile, the Prosperous City action plan will involve a development allocation of RM398,000 in next year's budget.
Additionally, MBSJ will allocate RM768,000 to 24 resident representative councils (MPP), with each receiving RM32,000 to conduct programmes next year.
"For economic revitalisation under the Prosperous City initiative, MBSJ will allocate RM50,000 to support micro-entrepreneurs.
"This includes the addition of new vending locations, increased business stalls and provision of temporary vendor permits.
"The city council has also launched placemaking initiatives at Borneo Morning Market in Seri Kembangan and Boom City in SS17.
"These are part of our efforts to support small businesses in generating economic activity within the MBSJ administrative area," he said.
Also present at the session were Subang Jaya assemblyman Michelle Ng, Subang Jaya deputy mayor Mohd Zulkurnain Che Ali and MBSJ Engineering Department director Rosli Muhd Yunus.
Source: thestar