Subang Jaya Ready for Monsoon Season: Authorities Geared Up for Flood Preparedness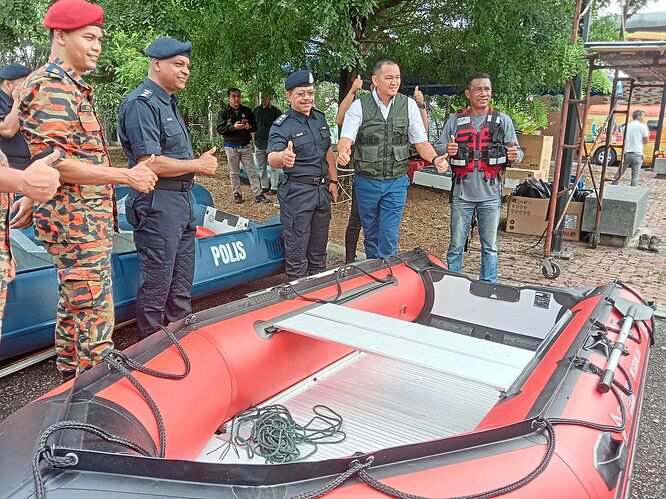 Mohd Zulkurnain (in green vest) with (from second left) IPD Serdang chief ACP A.A. Anbalagan and IPD Subang Jaya chief ACP Wan Azlan Wan Mamat during the flood preparedness training.
Subang Jaya City Council (MBSJ) is leaving no stone unturned in their preparations for the upcoming north-east monsoon. According to Deputy Mayor Mohd Zulkurnain Che Ali, Subang Jaya is fully equipped to tackle any potential challenges the monsoon season may bring.
He made these remarks during the launch of a flood preparedness training session held at Taman Tasik Prima in Puchong, Selangor, which saw the participation of 110 personnel. This group included members from the Fire and Rescue Department, Malaysia Civil Defence Department, Serdang, and Subang Jaya police headquarters.
Mohd Zulkurnain emphasized that authorities would remain vigilant for signs of impending floods until February of the following year. As part of their readiness, participating agencies have pooled their resources, including 15 boats, and are utilizing flood alert systems that will disseminate information to residents' representative councils, village heads, and social media platforms.
To enhance early warning capabilities, a network of 10 sensor stations has been established in critical areas such as Subang Jaya, Kinrara, Seri Kembangan, and Serdang. In addition, the authorities have identified 25 flood and landslide hotspots, and 60 temporary evacuation centers (PPS) are on standby.
Preventive measures have also been taken to maintain drainage systems and retention ponds to ensure unobstructed water flow. These include the installation of weirs in large drains to slow down the flow of water.
Speaking about their proactive approach, Mohd Zulkurnain mentioned significant investments in flood preparation work in specific areas. For instance, they spent RM1.5 million in Kampung Kenangan, approximately RM4 million near the IOI Mall area, and RM1.5 million in Batu 14.
Azfarizal Abdul Rashid, MBSJ's Corporate Planning and Strategic Management deputy director, who played a crucial role in rescuing flood victims during the December 2021 floods, stressed the importance of heeding instructions. He highlighted that early evacuation not only saves lives but also minimizes property damage, particularly to vehicles.
The preparations for flood response began in November, with a workshop gathering all relevant agencies. A comprehensive booklet with a step-by-step plan has been distributed to all agencies, covering aspects such as command center locations, deployment of rescue teams, placement of flood victims, and safe parking locations for affected residents to protect their vehicles from water damage.
Sariman Abdullah, an assistant administrative officer in the MBSJ Disaster Management Unit, shared the wealth of experience among the personnel involved in flood rescue missions. He recounted his first rescue mission at the age of 14, when, with the help of his father and brother, they rescued an elderly stroke patient during a flood in Kampung Bukit Rambai, Melaka.
These proactive measures and the dedication of the authorities aim to ensure the safety and well-being of the community during the monsoon season.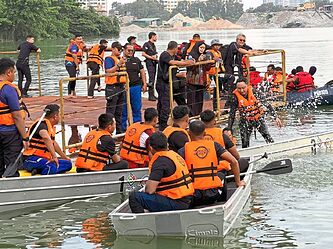 About 110 personnel took part in the programme at Taman Tasik Prima in Puchong.
Source: thestar