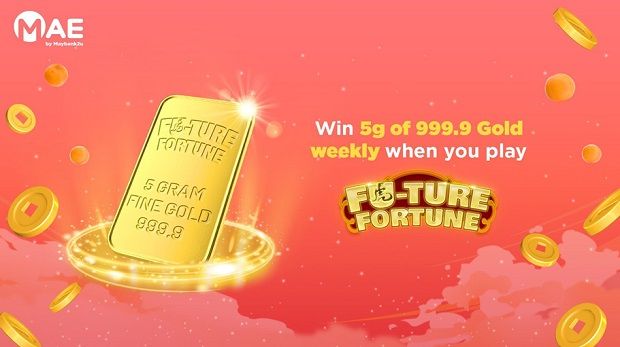 This Lunar New Year, stand a chance to be rewarded with gold, cash prizes and shopping vouchers when you transact on the MAE by Maybank2u.
HOW will you be celebrating this Chinese New Year?
As we pounce into the Year of the Tiger, we are blessed with the opportunity to celebrate and share a roaring good time with friends and family once again.
Maybank welcomes you to celebrate this Lunar New Year by joining in its festive take on prosperity with its Fu-ture Fortune game.
Bringing fu - good fortune and blessings in Mandarin - right in the palms of your hands. Every time you play the game on the MAE by Maybank2u, you bring yourself one step closer to winning exciting prizes such as 5g of 999.9 gold, cash prizes and shopping vouchers from now till Feb 27.
Keeping the spirit of the tiger - also pronounced as fu in Cantonese - alive, the bank continues its efforts in innovation and humanising the banking experience by showcasing multiple features in the MAE app.
These features include cashless payment like Scan & Pay, e-Angpao, easy bill payment, mobile prepaid or game credit reload and Sama-Sama Lokal, which is a food delivery feature in MAE app that aspires to help local businesses with 0% commission.
Moreover, these transactions will earn you a chance to play the Fu-ture Fortune game.
You can also earn double chances on weekends when you perform a minimum of RM50 DuitNow Transfer, and JomPay transaction or Scan & Pay at over 300,000 participating merchants at a minimum of RM30.
Follow the three simple steps to stand a chance at winning:
Step 1: Simply perform eligible transactions to earn chances.
Step 2: Tap on any Golden Orb of your choice to reveal your prize
Step 3: Remember to activate your MAE app to claim your prizes like cash and shopping vouchers.
What's more, there will be bonus chances, so be sure to switch on the push notifications on the MAE app, to stay alert.
Send an e-Angpao
Collect more chances and stand a chance to win RM888 cash by sending e-Angpao to show your loved ones near and far just how much you care with the MAE app.
You can now easily send an e-Angpao by picking a family member, friend or even the married folks in your contact or use Scan & Pay to share blessings with your loved ones.
You can also choose to send an e-Greeting of choice to your family and friends this festive season with MAE by Maybank2u.
Besides that, every e-Angpao with a minimum of RM5 you will earn a chance to play Fu-ture Fortune.
Up to RM88 cashback, every day
Go cashless when you pay for the reunion dinner using Scan and Pay this year. Just launch the MAE app, click on the QR code button (or click on "Show QR code") and key in the amount to pay.
With over 300,000 participating merchant stores available for you to use the Scan & Pay feature.
Be a step closer to the 999.9 gold when you spend a minimum RM30 per transaction as you'll earn a chance to play Fu-ture Fortune and also win cashback up to RM88 every day.
Support local this Lunar New Year
If you and your family enjoy celebrating indoors and have grown accustomed to the homebody way of celebrating.
Choose to support your local business via the Sama-Sama Lokal on the MAE app.
Be sure to order in your favourites like yee sang and bakwa or Chinese New Year cookies and snacks to share with your guests and take advantage of the promotional code SSLCNY28 for 28% off your order (up to RM10) when you spend a minimum of RM30. Also get your hands on free deliveries worth up to RM10 this festive season.
What's more is knowing that when you support local via the #SamaSamaLokal platform, 100% of what you pay goes back to merchants.
A bonus is that you get to earn a chance to play the Fu-ture Fortune game and hopefully strike gold.
Clear your bills
The new year comes with a few taboos like not cleaning the household especially sweeping on the first day of the Lunar New Year as it symbolises sweeping away wealth, another superstition is to pay all your debts by Lunar New Year's eve. So take the chance to clear all your bills this year and be rewarded while you are at it.
Pay your bills at a minimum of RM30 and reload your prepaid mobile credit or game credit at least RM10 to earn a chance to play the Fu-ture Fortune game on the MAE app.
May fortune be ever in your favour this Lunar New Year with the MAE app.
Enjoy exciting benefits that come along with it by using the e-Angpao, Scan & Pay, Sama-Sama Lokal, bill payment and reload feature all on the MAE app. Find out more on the Fu-ture Fortune website. #ItsGottaBeMAE
Download the app now via Google Play or Apple Store and don't forget to register a MAE account for free to claim your rewards now.
source: thestar