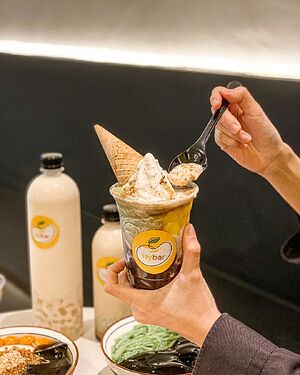 Image source: Facebook
Location:
20, Jalan Puteri 2/2, Bandar Puteri, 47100 Puchong, Selangor
Operating Hours:
12pm - 10pm daily
Introduction :
Soybar is a popular vegan restaurant located in Puchong. They offer a range of plant-based dishes, with a focus on soy-based products like soy milk, soy meat, and tofu. Some of the popular dishes at Soybar include the soy meat rendang, vegan burger, soy milk lattes, and tofu cheesecake.
Location and Accessibility :
If you're coming by car, there is ample parking space available in the area. If you're taking public transportation, the nearest LRT station is the Puchong Prima station, which is about 10 minutes away by car.
Operating Hours :
This restaurant is open daily from 12pm to 10pm. Please note that these hours are subject to change, and it's always a good idea to check their website or social media pages for any updates or changes to their operating hours.
What to expect :
Soybar's signature dish is their Soy Meat Rendang, which is a vegan version of the traditional Malaysian dish. It's made with soy meat that's been marinated in a blend of spices and then cooked in coconut milk, resulting in a rich and flavorful dish. The rendang is served with steamed rice and is a popular dish among both vegans and non-vegans alike. Other popular dishes at Soybar include the vegan burger, vegan spaghetti bolognese, and tofu cheesecake.
Conclusion :
Overall, Soybar is a great restaurant in Puchong for vegans and those who are looking for plant-based options. The restaurant offers a wide variety of dishes made with soy-based products, including their signature Soy Meat Rendang. The atmosphere is cozy and welcoming, with both indoor and outdoor seating options available. The restaurant is also easily accessible by both car and public transportation, which makes it convenient for diners. If you're looking for vegan food in Puchong, Soybar is definitely worth checking out.