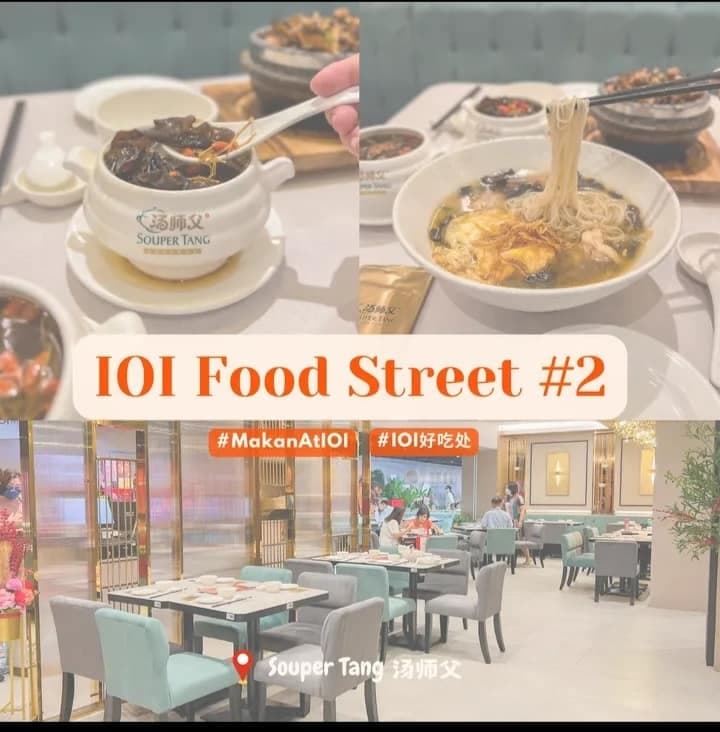 Source :
FB IOI Mall Puchong
Location:
Ioi Mall, G181, Ground Floor, Jalan Puchong, Bandar Puchong Jaya, 47170 Kuala Lumpur, Selangor
Operating Hours:
Monday - Sunday : 11am - 10pm
Contact
03-8071 7772
Title: Discover the Irresistible Charm of Souper Tang at IOI Mall
Introduction:
Looking for a delicious way to boost your health and vitality? Look no further than Souper Tang, the renowned Chinese restaurant chain that's been delighting diners with its nourishing soups and herbal remedies. Whether you're seeking a satisfying meal with family and friends, or a solo escape from the daily grind. Get ready to tantalize your taste buds and nourish your body and soul!
Location and Accessibility:
Souper Tang is conveniently located in the bustling IOI Mall in Puchong, Malaysia, easily accessible by car, public transport or on foot. The restaurant is located on the ground floor of the mall, near the main entrance, for the convenience of shoppers and visitors. If you're arriving by car, there is ample parking in the shopping center's multi-storey car park, with designated spaces for people with disabilities. Alternatively, if you're using public transport, you can take the Light Rail Transit (LRT) to IOI Puchong Jaya Station, which is just a short walk from the mall.
Operating Hours:
If you're looking to satisfy your cravings for delicious and nourishing Chinese soups and herbal remedies, Souper Tang at IOI Mall has got you covered. The restaurant is open seven days a week, from 11:00am to 10:00pm, making it the perfect spot for lunch, dinner, or a midday snack. With its cozy and inviting ambience, Souper Tang at IOI Mall is also an ideal place to unwind and relax after a long day of work or shopping.
What to Expect:
When customers visit Souper Tang at IOI Mall, they normally expect a dining experience that's more than just a meal - it's a journey towards better health and wellness. The restaurant's menu features a wide variety of Chinese soups, stews, and broths that are made with premium ingredients and prepared using traditional cooking methods. These soups are not only delicious and comforting, but also packed with nutrients and healing properties that can help boost your immune system, aid digestion, and promote overall well-being.
In addition to its soups, Souper Tang also offers a range of herbal teas, tonic drinks, and desserts that are designed to nourish and revitalize customer body and mind. And with its warm and welcoming ambience, complete with cozy decorate and attentive service, Souper Tang at IOI Mall is the perfect place to relax and unwind while you enjoy your meal.
Whether customer are a foodie, a health enthusiast, or simply someone looking for a delicious and nourishing meal, Souper Tang at IOI Mall is sure to exceed your expectations.
Conclusion:
Souper Tang, located on the ground floor of IOI Mall in Bandar Puchong Jaya, Selangor, is a must-visit restaurant for those seeking a delicious and satisfying meal. With operating hours from 11am to 10pm every day, it is a convenient option for any time of day. Contact the restaurant at 03-8071 7772 to make a reservation or for more information. Don't miss out on experiencing the irresistible charm of Souper Tang at IOI Mall.