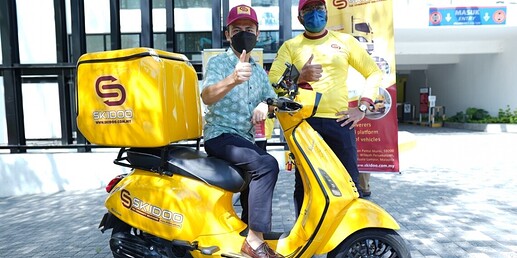 Skidoo Malaysia has officially launched in Malaysia and it's a new on-demand delivery service that is now available in Kuala Lumpur. Similar to Lalamove, you can choose from a range of transportation options including motorcycle, car, pickup truck, or a large 5-tonne lorry. Their services cover transfers for business, moving, food, and personal items.
According to its press statement, Skidoo takes pride in their elevated service and care for customer's goods, high standards for customer service as well as competitive pricing. Skidoo said its delivery services are 40% cheaper than most of the courier services in the country with no hidden charges to ensure that customers do not feel burdened by heavy delivery costs. If there are any issues, users can simply contact them via WhatsApp or a direct call to get an on-the-spot solution.
Skidoo Malaysia was launched by Lembah Pantai MP YB Fahmi Fadzil. During the event, he said, "As we move towards returning to normalcy, one thing is clear; delivery services will continue to be sought-after by Malaysians and I am happy to see such a service born here in the area. We need more local entrepreneurs and businesses to grow, especially with the surge in online shopping in Malaysia. Skidoo not only addresses the needs of the market today but also opens the door for job opportunities to people looking to rebuild their lives."
Skidoo Malaysia CEO Asokan Raveindaran said "We started this delivery service company as we realised there is a gap in affordable, good point-to-point delivery service. SKIDOO operates on the human business model, where customers get the best in pricing, experience and overall service. We're born out of the need of the community, and it is also where the community delivers back."
At the moment, Skidoo charges a minimum of RM5 for bike delivery within a distance of 4km. If you have larger items, you can book a car delivery at RM6.50 for a distance of 5km or a 4×4 pickup truck at RM20 for a distance of 10km. For bulkier items, Skidoo also offers a van option which starts from RM35 for a distance of 10km, or lorries which start from RM55 for 10km.
As part of its launch promo, Skidoo is offering 21% off on delivery charges with the promo code SKIDOO2021. The offer is capped at 20 users per day and will be running from 16th October until 15th November 2021.
At the moment, Skidoo doesn't have an app and you have to book your delivery through their website at skidoo.com.my. Users can choose between Food Delivery and Goods Delivery, but the delivery costs appear to be similar between the two. The service accepts both cash as well as online payments. Besides credit card and online banking, Skidoo also supports eWallet payments including Boost, Grab, Touch 'n Go eWallet, Shopee Pay, AliPay, PrestoPay and WeChat.
Source: SoyaCincau