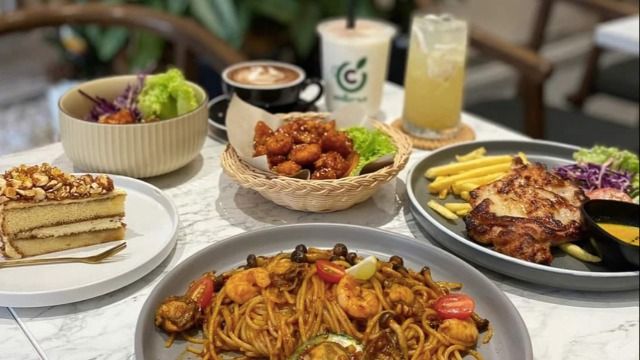 Sources: Eatigo
Location:
22, Jln OP 1/3, Bandar Puchong Jaya, 47160 Puchong, Selangor
Operating Hours:
Everyday : 8.30am - 10.00pm
Contact
012-659 7663
Introduction
Are you looking for a new spot to enjoy delicious food and drinks with friends or family? Look no further than our favorite western cafe, which we can't wait to introduce you to. This cafe offers a unique and memorable experience that is sure to satisfy all of your cravings. From the moment you step inside, you'll be welcomed by a warm and inviting atmosphere that is both cozy and chic.
Location and Accessibility:
Signature By Coolnut cafe is located in Puchong Jaya. Very suitable for people living in the Puchong and Shah Alam areas.
Operating Hours:
The operating hours for this cafe are every day starting at 8.20 am until 10pm. However, I advise you to make a reservation in advance because you are afraid you will have to wait a long time, as this cafe is very popular. You can make a reservation at their website and choose the date and time.
What to Expect:
The menu at this western cafe is a true delight, featuring a variety of dishes that will satisfy any taste preference. Whether you're in the mood for classic comfort food or more creative, contemporary cuisine, you'll find something to love on the menu. The ingredients used in each dish are always fresh and locally sourced, ensuring a high-quality dining experience every time. If you dont know which menu to eat you can choose by the rank of their signature. The number one is their carbonara.
Conclusion:
Overall, we highly recommend visiting this western cafe for a memorable and satisfying dining experience. You'll love the food, atmosphere, and friendly service, and we can't wait for you to try it out for yourself.