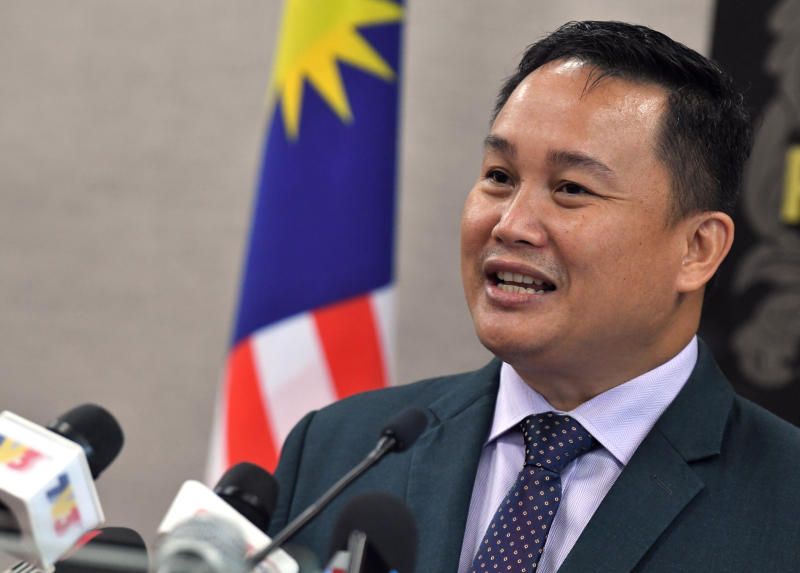 image source: the star
KUALA LUMPUR: Parliament descended into a shouting match after a deputy minister was accused of showing the middle finger towards Opposition MPs in the House after a bloc vote was called.
The issue began right after bloc voting was called on the allocations for Plantation Industries and Commodities Ministry under Budget 2021 at the committee stage in Parliament on Tuesday (Dec 1).
MPs from both sides of the political divide then started taunting each other before their microphones were muted.
Pakatan Harapan MPs, in an act of defiance, were heard chanting "pengkhianat" (traitor), while banging on their respective tables.
It was during then, Deputy Plantation Industries and Commodities Minister Willie Mongin (pic) allegedly showed the middle finger.
"It's a middle finger. The Puncak Borneo MP is pointing a middle finger, " said Kasthuri Patto (PH-Batu Kawan), while her colleague RSN Rayer (PH-Jelutong) stood up in support of her, demanding Mongin to apologise to the House.
The traitor remark is a jab frequently used by Opposition MPs to taunt other MPs who left the former Pakatan administration in February to form the current Perikatan Nasional government.
Speaker Datuk Azhar Azizan Harun then interrupted the argument, and demanded MPs to sit down while the bloc vote on the allocation of the Plantation Industries and Commodities Ministry took place.
Ten minutes later, Azhar read out the results where 108 MPs voted in favour of the ministry's allocation to be passed, while 95 MPs voted against and 13 were absent.
Shortly after, Rayer raised a point of order, saying that Mongin's alleged show of middle finger was witnessed by at least 10 MPs in the House.
"This is an insult to women. I don't want to repeat this. This is serious, ask him to apologise please, " said Rayer.
Azhar then asked: "Deputy Minister, is this true?"
In response, Mongin denied that he showed the middle finger in the House, saying that MPs seated on the other side might have mislooked.
"I want to explain here that I did not show my middle finger. They might have looked wrongly. But, if they still think so, then I'm ready to apologise. Thank you."
However, a short video clip depicting Mongin as purportedly showing the middle finger was uploaded on Twitter on Tuesday (Dec 1) shortly after the incident.
Kasthuri, who first raised the issue prior to the bloc vote, then stood her ground, as she claimed that even Parit Sulong MP Datuk Dr Noraini Ahmad had seenMongin pointing the middle finger towards Opposition MPs.
"If he did not point the middle finger, then why did Parit Sulong tell him to cool down? You (Dr Noraini) shouted it twice.
"What a mockery to the August house, " said Kasthuri.
Prior to the incident, there was also a shouting match after Shah Alam MP Khalid Abdul Samad labelled Mongin as stupid while the Deputy Minister was delivering his winding up speech.
"Shah Alam, don't think as if you are the only intelligent one. Don't look down at people, " said Mongin.
"That's because your answer is stupid, " said Khalid in response, before a shouting match ensued, triggering Azhar to bang his gavel, demanding for MPs to keep quiet and be seated until a voice vote is called on the Budget 2021 allocations for the ministry.
This is the third time where Pakatan has lost the bloc vote at the committee stage of debates on Budget 2021 since Monday.
Source: the star