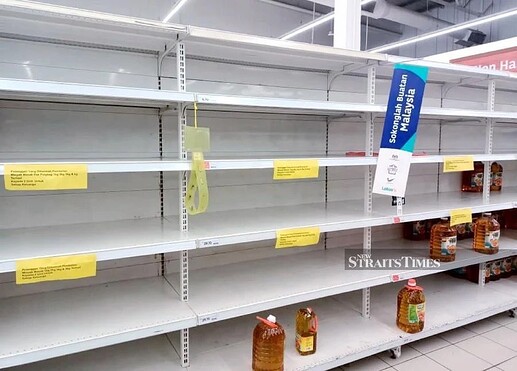 KUALA LUMPUR: Supermarkets in the Klang Valley appear to have run out of one-kilogramme polybag cooking oil, and 5kg bottles are in short supply.
Checks by the New Straits Times Press at several supermarkets here found that the subsidised 5kg bottles of cooking oil were hard to come by, and the 1kg polybags had been sold out.
Despite the low stock, however, their prices remained unchanged.
A supermarket staff said cooking oil were in short supply as suppliers had been slow in delivering their stock.
"Whenever new stock comes in, they would be snapped up in a jiffy. Whatever you see on the shelves are all that's left," he said.
Shopper Jasmine Chang, 50, said she also noticed that lately, any type of cooking oil, regardless whether they came in bottles or polybags, had been low in stock.
She said she usually bought the Buruh brand cooking oil in 5kg bottles.
"I wanted to buy some today but they're out of stock. So I now have to go elsewhere to look for the product.
"If the government can retain the cooking oil subsidy, I'm sure it would bring relief to many people, especially traders.
"However, if the authorities still want to dispense with the cooking oil subsidy, then it looks like I'll be doing a lot more cooking at home," she said.
Another shopper, who only wished to be known as Mahawi, 60, said she was not too affected by the withdrawal of subsidy for bottled cooking oil as she only used the Matahari brand cooking oil, which isn't subsidised.
However, she acknowledged that many traders would be feeling the pinch if the withdrawal of subsidies went ahead.
She said the shortage of cooking oil would affect both the supermarkets as well as restaurateurs and traders.
"Recently, I went out to buy some curry puff from a stall I frequent. I was shocked when they told me that they weren't selling any because they had run out of cooking oil," she said.
Checks in the Klang Valley also found that supermarkets were limiting the purchase of cooking oil to two bottles per household.
Domestic Trade and Consumer Affairs Minister Datuk Seri Alexander Nanta Linggi had previously announced that the subsidies for cooking oil would be abolished come July 1.
He said this was to ensure that market prices and supplies remained stable in the long term.
Source: New Straits Times