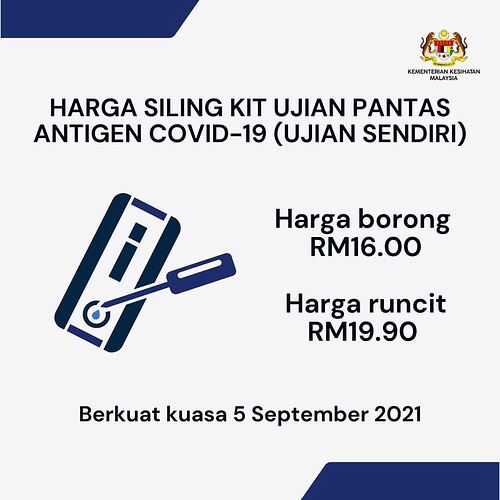 September 5, Covid rapid test kit set top price Retail RM19.90 Wholesale RM16
Minister of Domestic Trade and Consumer Affairs Dato' Seri Alexander and Minister of Health Khairy jointly issued a statement saying that the Ministry of Trade and Consumer Affairs and the Ministry of Health have worked together to set the ceiling price for the sale and wholesale of the kits, which is effective under the Anti-Profiteering and Price Control Act 2011 and the Supply Control Act 1961.
From September 5, the retail selling price of our rapid test kits for coronary diseases is set at RM19.90 and the wholesale price is RM16.00.
"The government is aware that the epidemic has not yet recovered in our country and around the world and is now facing a more challenging situation. Therefore, the demand for rapid antigen test kits (self-test) for coronary disease is expected to increase as the public realizes the importance of self-testing to reduce the spread of the virus."
To address the current rising cost of living and to provide support in responding to the outbreak, the Ministry of Trade and Consumer Affairs has set wholesale and retail ceiling prices for the relevant kits, effective September 5, 2021, the release said. The wholesale and retail ceiling prices for the kits are set with appropriateness and applicability for more effective implementation to ensure that the market offers reasonable prices to benefit users and businesses.
It is also stated in the text that those who violate the regulation by selling above the ceiling price will face a fine of up to RM100,000 or imprisonment for not more than 3 years, or both, or receive a fine of RM50,000, while businesses will face a fine of RM500,000 or receive a fine of RM250,000.