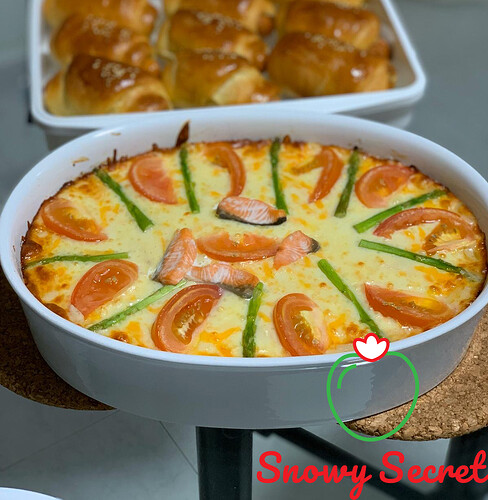 served: 3-4 person
INGREDIENTS:
2 cups rice
300g Salmon de-boned
4 TBSP cream of mushroom
2 TBSP mayonnaise
200g mozzarella cheese
Broccoli / asparagus
Slices Cherry tomatoes
1/2 tsp Salt
Black pepper
DIRECTION:
Pre-heat the oven at 200°C.
Set aside some thinly sliced salmon for garnishing the baked rice later.
Air fry the salmon fillet till just cooked
Add cooked salmon fillet to the cooked rice and use your spoon to mash the salmon to break it into flakes. Mix till the rice and salmon are thoroughly combined.
Season the rice with sea salt and black pepper.
Dish the salmon rice mixture into oven-safe baking dishes.
Spread mushroom soup sauce and Japanese mayonnaise on top of the rice.
Top with a layer of shredded mozzarella cheese.
Garnish the rice by topping thin slices of uncooked salmon, broccoli/ asparagus and cherry tomato slices.
Baked in an oven at 200°C for about 20 minutes, or until all the cheese has melted and is slightly browned.
Served.