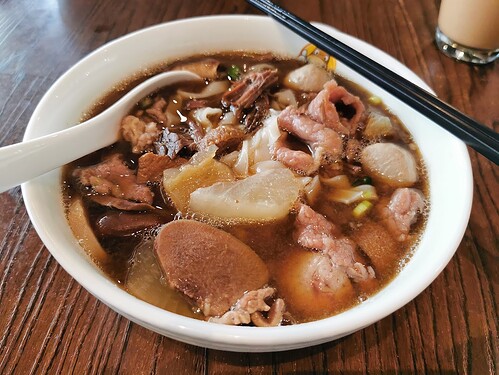 Image Source :
Google Review
Location : G-13, Jalan Puteri 4/8, Bandar Puteri, 47100 Puchong, Selangor
Operating Hour : Monday - Sunday
10AM-7PM
Introduction:
Welcome to Sabah Beef Noodle Kah Hiong Ngio Chap in Puchong, your gateway to the authentic and tantalizing flavors of Sabahan cuisine. Situated in the heart of Puchong, the restaurant offers a culinary journey that captures the essence of Sabah's rich gastronomic heritage.
What to Expect:
At Sabah Beef Noodle Kah Hiong Ngio Chap, expect to indulge in a symphony of flavors that originate from Sabah's vibrant food scene. From mouthwatering beef noodles to the unique and flavorful Ngio Chap (mixed innards) soup, each dish is crafted with care and attention to detail. The menu pays homage to Sabah's culinary diversity, ensuring a memorable dining experience filled with the warmth of Malaysian hospitality.
Conclusion:
In conclusion, Sabah Beef Noodle Kah Hiong Ngio Chap Puchong promises an authentic journey through the distinct flavors of Sabah. With its dedication to preserving traditional recipes and creating a welcoming ambiance, the restaurant invites you to experience the taste of Sabah right here in Puchong. Come and relish in the aromatic spices and hearty dishes that reflect the heart and soul of Sabahan cuisine.