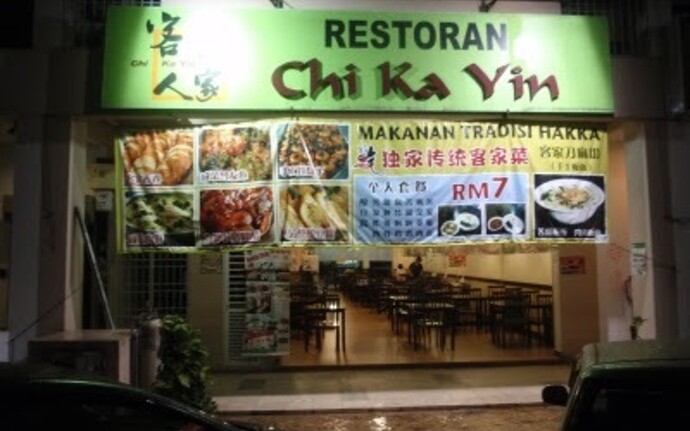 Location:
G, 9, Jalan Puteri 2/6, Bandar Puteri Puchong, 47100 Puchong, Selangor
Operating Hours:
Monday to Friday 10.30am - 3pm; 5.30am - 9.30pm
Saturday to Sunday 10.30am - 10pm
Introduction :
Restoran Chi Ka Yin is a popular dining establishment located in Puchong, Selangor, Malaysia. Known for its delicious and authentic Chinese cuisine, the restaurant offers a range of dishes that are sure to satisfy your taste buds. With a warm and inviting ambiance, Restoran Chi Ka Yin provides a comfortable dining experience for both individuals and families.
Location and Accessibility :
In terms of accessibility, Puchong is a well-connected town with various transportation options. You can typically reach Puchong by car, taxi, or ride-hailing services. Public transportation, such as buses or trains, may also be available, depending on the specific location and routes in the area.
Operating Hours :
Restoran Chi Ka Yin operates from Monday to Friday with two distinct operating hours. During weekdays, the restaurant is open from 10.30am to 3pm for lunch service, and then again from 5.30pm to 9.30pm for dinner service. This allows customers to enjoy their flavorful Chinese cuisine during both lunchtime and dinner hours on weekdays.
On weekends, specifically Saturdays and Sundays, Restoran Chi Ka Yin extends its operating hours to accommodate a wider range of dining preferences. The restaurant opens from 10.30am and remains open until 10pm, providing ample time for customers to enjoy a leisurely lunch or dinner experience over the weekend.
What to expect :
Restoran Chi Ka Yin is renowned for its signature dish, the Crispy Salted Egg Squid. This dish features tender squid coated in a crispy batter and tossed in a flavorful salted egg sauce. The combination of the crispy texture and rich salted egg flavor creates a mouthwatering dish that is loved by many. The squid is cooked to perfection, resulting in a delightful balance of chewiness and crunchiness. The aromatic salted egg sauce adds a savory and slightly sweet note, elevating the overall taste of the dish. The Crispy Salted Egg Squid at Restoran Chi Ka Yin is a must-try for seafood lovers and those who enjoy the unique flavors of salted egg dishes.
Conclusion :
In conclusion, Restoran Chi Ka Yin in Puchong is a popular Chinese restaurant known for its delicious cuisine and warm ambiance. With its wide selection of dishes, including their signature Crispy Salted Egg Squid, the restaurant offers a delightful dining experience for patrons. The combination of tender squid, crispy texture, and flavorful salted egg sauce makes the signature dish a standout choice. Whether you're craving authentic Chinese flavors or looking to try something new, Restoran Chi Ka Yin provides a satisfying culinary journey. With its convenient location and welcoming atmosphere, the restaurant is a go-to destination for locals and visitors seeking quality Chinese cuisine in Puchong.