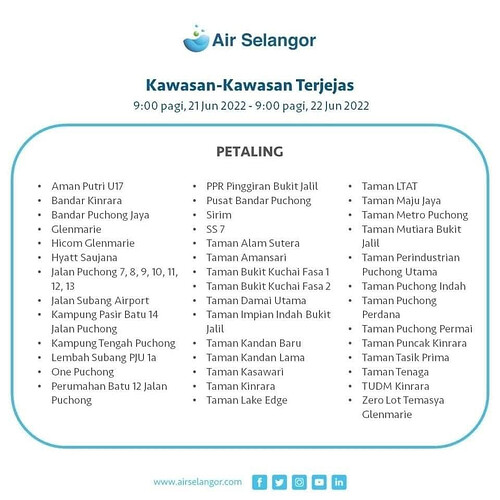 Air Selangor would like to inform about the implementation of the improvement works of the water supply system at the Bukit Dengkil Water Pool. The implementation of these works will cause scheduled water supply disruption in 47 areas in Petaling Region starting at 9:00 am, June 21, 2022 and is expected to fully recover by 9:00 am, June 22, 2022. The list of areas that will experience scheduled water outages is as posted.
The implementation of these works has obtained the approval of the National Water Service Commission (SPAN) to upgrade the water supply system for the comfort of consumers in the future.
The water supply is expected to be distributed to consumers starting at 9:00 pm, June 21, 2022 in a gradual way after the upgrading works and further completed maintenance of the water distribution system has been stabilized.