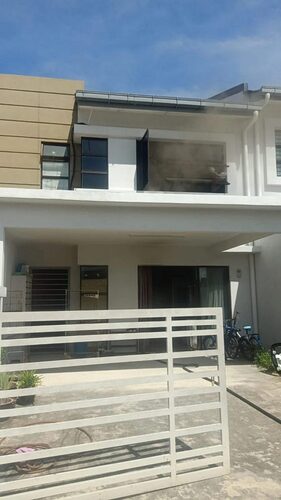 (Kuala Lumpur, Oct 12) A double-storey row house caught fire for no reason this morning, but fortunately the three children inside the house were successfully rescued and the fire was extinguished in time, without tragedy.
A spokesman for the Selangor State Fire and Rescue Department pointed out that the incident occurred at 10:15 a.m. today in the Puchong area, and the department immediately dispatched 10 firefighters, fire engines, water tankers and medical rescue vehicles to the scene.
Upon arrival at the scene, the fire was found in the storage room of the house. 10% of the area was destroyed by the fire and there were three children inside the house, their 9-year-old sister and their 8-year-old and 1-year-old brothers.
"The sister pushed the sliding door open and led her two brothers out of the house. The sister was suspected of inhaling smoke and had difficulty breathing, while the two brothers were not injured."
The Fire and Rescue Service pointed out that the parents of the three children were out of work when the fire occurred, and there were no adults at home.
Fortunately, the firefighters were able to control the fire and no one was killed in the incident.
Source: Seehua.com