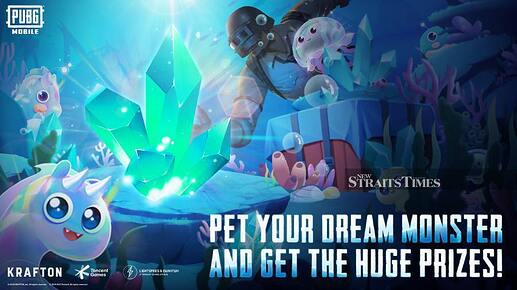 KUALA LUMPUR: PUBG Mobile has introduced a special in-game event Dream Monster that can be exchanged for Ocean Crystals to redeem in-game items including Permanent Epic Suits, Gun Skins, Headgear, and more.
Free Dream Monster can be adopted until May 5 by tapping the crystal bottle on the game's Dream monsters page.
According to PUBG Mobile, once released, the baby Dream Monster will evolve from the M2 stage into higher grade monsters via interactions with players.
"The happier they get, the faster they level up, and the higher their worth is when exchanged for Ocean Crystals," said the company.
Here are the ways to make your Dream Monsters happy:
Step 1: Shower Your Dream Monster Pet with Love
Interact with your Dream Monsters with pets, feeding, and exercise, or by purchasing special Dream Monster items to make them grow to the next stage.
Step 2: Check-In Daily for Rewards in Exchange for Dream Monster Care Items
Players can get rewards through daily check-ins, participating in missions, playing mini-games, and inviting friends to join the Dream Monster event. These items can be exchanged for Dream Monster care essentials.
Step 3: Sell or Continue to Care to Increase Dream Monster Grade
At its M3 stage, players can sell them for Ocean crystals or keep them until they evolve into higher grade monsters.
The higher the Dream Monster grade, the higher its 'rarity'. Just like non-fungible tokens (NFT) work. Higher grade Dream Monsters will be worth more Ocean Crystals and can be used to buy items to boost its growth or redeem in-game items for a higher value.
Step 4: Show off your Rare Dream Monster Pets to Friends
Dream Monsters can be shared on social media to show off their rarity and grade.
To adopt one from the PUBG MOBILE app, simply go to Launch PUBG MOBILE app > Events > Hot > Dream Monster
Source: New Straits Times