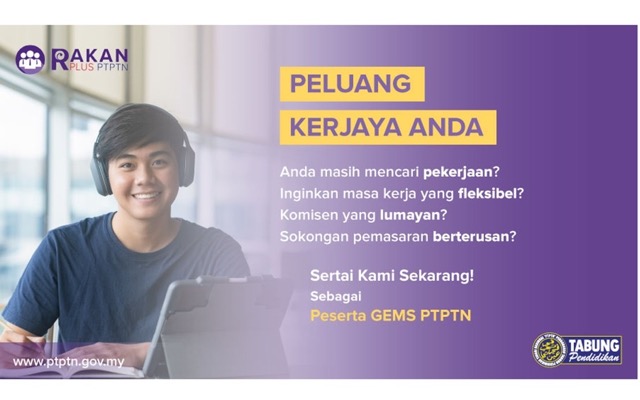 KUALA LUMPUR, May 31 (Bernama) – The National Higher Education Fund Corporation (PTPTN) is carrying out the Graduate Executive Marketer for Simpan SSPN Plus (GEMS) programme in collaboration with the Ministry of Higher Education (KPT) and Universiti Malaysia Kelantan (UMK) to assist PTPTN borrowers who have graduated.
PTPTN said the programme is one of the initiatives under the PENJANA KPT-CAP (Career Advancement Programme) which is the government's effort in addressing the challenges of graduate marketability and reducing unemployment due to the COVID-19 pandemic.
"This programme is offered to PTPTN borrowers who graduated in the field of Arts in 2019 and 2020. Through the training modules provided, PTPTN borrowers can practise entrepreneurial knowledge thus enable them to generate their own income," it said in a statement today.
According to the statement, PTPTN has identified eligible borrowers as GEMS participants based on the conditions set and selected borrowers will receive offers via email starting tomorrow (June 1).
PTPTN said borrowers need to update their personal information and undergo a psychometric test by June 19.
Borrowers who graduated in the field of Arts in 2019 and 2020 but did not receive an offer via email, can check their eligibility at https://www.ptptn.gov.my/program-gems/ from tomorrow until June 19, it said.
According to PTPTN, GEMS programme participants will be given comprehensive online training by UMK lecturers for 16 days before marketing the Simpan SSPN Plus product and they will be supervised by a mentor comprising PTPTN officers.
"Training modules will be given to participants and each successful participant will receive a monthly allowance for a period of 12 months," the statement read.
The statement also said that apart from the monthly allowance, other benefits for GEMS participants are free group takaful coverage (for a period of 12 months), opportunity to receive commissions on successful product sales, flexible working hours as well as continuous marketing support through trainings and guidance.
Other advantage of the programme is that GEMS certificate can be used to apply for micro-credentials to further studies to master's level at UMK.
According to the statement, the GEMS programme is expected to provide the opportunities for PTPTN borrowers to continue to progress, be competitive and have a good income in facing the current economic challenges.
Hopefully, this effort will not only generate income, but also increase financial literacy and savings awareness among PTPTN borrowers, it said.
Source: BERNAMA