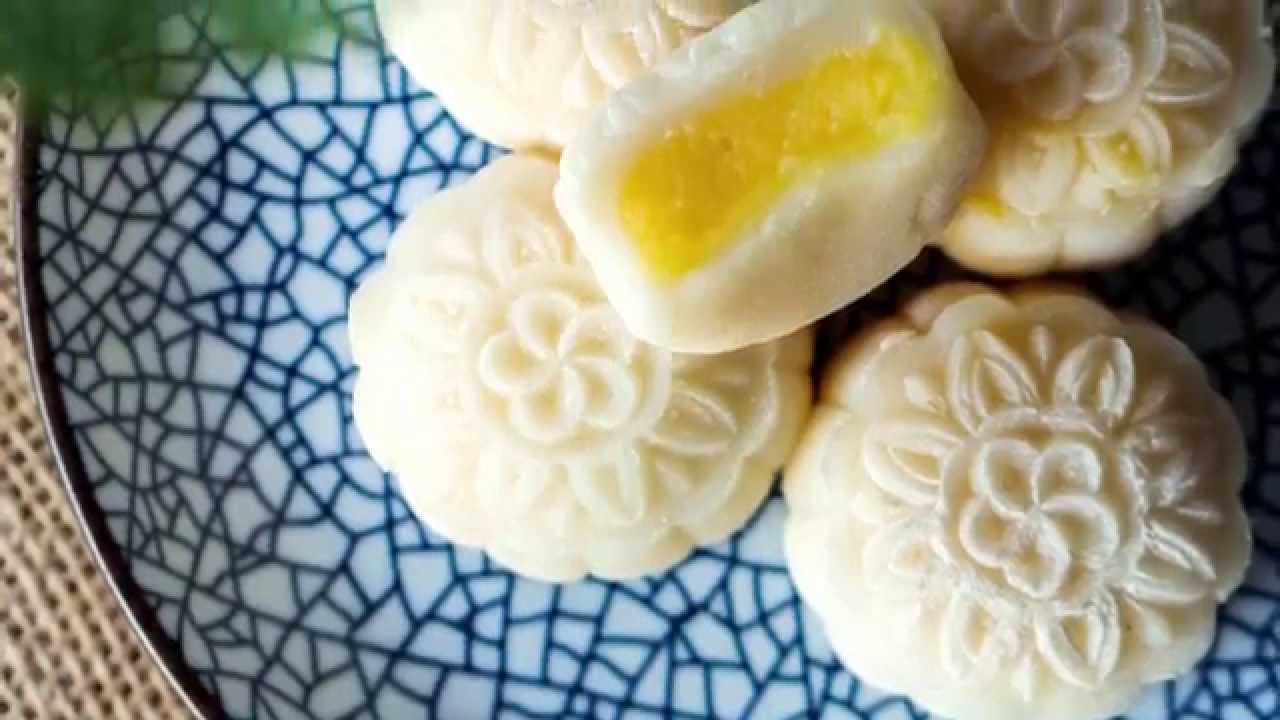 Image credit:
Chinasichuanfood
Ingredients
Unbaked pastry skin
150g icing sugar
180g kou fun (commercial cooked glutinous rice flour)
40g shortening
180g ice-cold water
A few drops peach colouring
1/8 tsp vanilla essence
Filling (1):
500g lotus paste
Custard filling (2):
30g plain flour (A)
45g corn flour (A)
20g custard powder (A)
10g milk powder (A)
150g castor sugar (A)
65g evaporated milk (B)
65g whipping cream (B)
80ml coconut milk (B)
1 egg (B)
20g butter
80g cream style sweet corn
Directions
Custard filling (2): Mix (A) together in a mixing bowl.
Add in (B) to mix. Strain mixture into a saucepan. Add in butter and cook over a very low heat, stirring with a hand-whisk until mixture turns creamy. Transfer to a tray and steam for 10–12 minutes.
Remove from the steamer, add in sweet corn and blend until fine in a food processor.
Divide into 40g portions. Wrap 1 portion lotus paste (60g) around the custard filling. Leave aside.
Pastry skin: Sift kou fun and icing sugar into a mixing bowl. Make a well in the centre and add shortening, essence and water. Quickly knead until dough is soft and smooth. Leave to rest for 20 minutes. Divide dough into 1/3 portion and add in peach colouring to blend. Leave the remaining portion plain.
Combine plain colour and coloured dough together and cut each into 60g. Flatten dough by rolling between two sheets of plastic wrap. Coat balls of filling with kou fun before wrapping.
Press into a wooden mooncake mould. Knock out to dislodge ping pei mooncake. Chill ping pei mooncake in the refrigerator.
2020-05-03T16:00:00Z