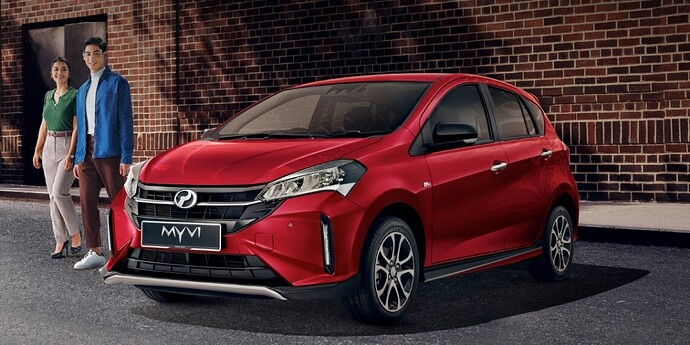 The Perodua Myvi, also known as the "King of Highway", has gotten a major update. Despite being a facelift model, the Myvi 2022 boasts several new upgrades including some of the industry's first for a car priced under RM60,000. Here are the 8 tech upgrades that you need to know.
New D-CVT transmission as standard, no more manual
The new Myvi still gets a similar 1.3-litre or 1.5-litre 4-cylinder petrol engine that pushes 94hp and 102hp respectively. However, the good old 4-speed auto transmission has been replaced with a D-CVT transmission that's also found on the new Perodua Ativa. The gear shifter looks the same as the pre-facelift model but the lower "3" and "2" gear labels have been replaced with "S" and "B". According to the manual, S is meant for driving on a slope while B is for when you're driving down a steep hill.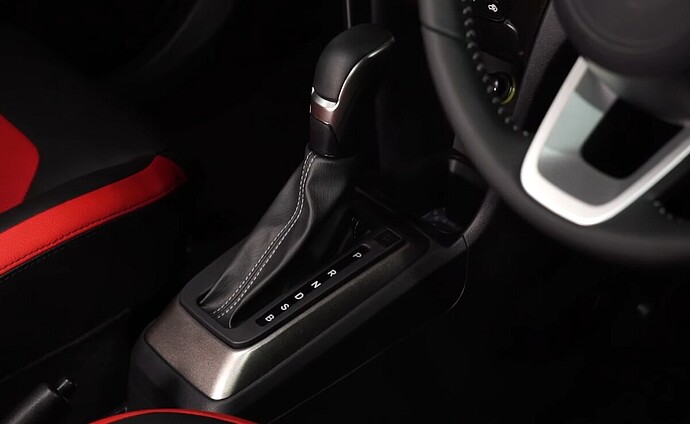 With the new transmission, Perodua claims that the new Myvi will offer better fuel efficiency with the 1.3L model doing 22.2 km/litre (previous: 21.1 km/litre) and the 1.5L model doing a respectable 21.1 km/litre (20.1 km/litre). The rated figures are based on the Eco Idle (Start-Stop) mode which allows the engine to shut off when the car comes to a complete stop to save on fuel. Acceleration is also claimed to be improved by 20% with a 0-100 km/h time of 11.5 seconds for the 1.3L and 10.2 seconds for the 1.5L.
For those who still prefer to drive a stick, you will be disappointed to know that Perodua is going fully automatic across the range for the new Myvi, just like the new Ativa and Aruz. That means the only new Perodua cars with manual transmission that you can buy right now would be the Axia, Bezza and the soon to be discontinued Alza.
Level 2 autonomous driving features
The latest Myvi now features Advanced Safety Assist (ASA) 3.0 which sets a new benchmark for affordable cars priced under RM60,000. To recap, when the 3rd gen Myvi was first introduced in 2017, the high-spec 1.5L AV model came with ASA 1.0 which offers pre-collision warning (PCW) with pre-collision braking (PCB) (also known as autonomous emergency braking) for speeds below 30km/h. Last year, they updated the Myvi 1.5L AV and H with ASA 2.0 which offers pre-collision braking up to 80 km/h and it can detect pedestrians.
The new ASA 3.0 for the Myvi offers similar safety tech as the Perodua Ativa which offers Level 2 semi-autonomous driving features. Besides pre-collision braking which now works up to 120 km/h, ASA 3.0 also offers Lane Departure Warning, Lane Departure Prevention and Lane Keep Control which helps to steer the car within your lane.
A major step up is the inclusion of adaptive cruise control for the 1.5L AV. Not only this is the first time the Myvi has cruise control, but it has advanced sensors to maintain a safe distance between you and the car in front of you. However, unlike the Proton X50, the adaptive cruise control only works within the range of 30 km/h to 125 km/h, so you'll have to take over once the speed drops below 30 km/h.
The range-topping model also gets a reverse camera, blind spot monitor, as well as rear cross traffic alert (RCTA) which is very useful when reversing out from a parking lot. Auto high-beam is also offered throughout the range except for the cheapest model.
The full smart drive assist and safety features are offered as standard on the range-topping 1.5L AV. However, it is great that Perodua is offering the crucial ASA 3.0 features such as pre-collision braking (PCB) and lane departure prevention (LDP) for the entire lineup. All variants get it but it is an RM2,000 add-on for the 1.3L G model.
As usual, you get Anti-lock Braking System (ABS), Vehicle Stability Control (VSC) and Traction Control (TRC) as standard across the range. In terms of airbags, Perodua is only including four for the 1.3L G and 1.5 X, while 1.5L H and 1.5L AV get a total of six airbags.
Slightly larger infotainment screen
The Myvi 1.5L H and AV models now get a slightly larger 6.9″ touchscreen infotainment display that supports voice recognition control, "Smart Link" screen mirroring and an HDMI port. The head unit is similar to the Perodua Ativa but it still lacks support for Android Auto and Apple Car Play.
For the cheaper 1.5L X and 1.3L G, you get a button-based digital audio player which supports FM radio and USB. Unfortunately, the cheapest 1.3L G model lacks Bluetooth support and audio buttons on the steering wheel.
Updated instrument cluster with mini colour display
The new Myvi still uses analogue gauges for speedo and tachometer but the high-end model now gets a colour TFT display in the centre. The display is used to show various driving information and vehicle settings. For the lower spec variants, you get a more basic-looking black and white LCD display between the gauges.
New steering wheel with "Power" button
The steering wheel has been replaced with a new design that's taken from the Ativa SUV. On the highest spec model, you get more buttons for adaptive cruise control (ACC) to adjust your speed and distance, as well as lane keep control (LKC).
Just like the Ativa, there's a "PWR" button that supposedly provides more power for acceleration and is "suitable when driver wants to quickly speed up while driving". Take note that the "PWR" button is not available on the low-spec 1.3L G.
Finally, an "Off" button for aircon controls
Source: Paultan
The digital air-con controls look similar as before but Perodua has finally added a dedicated "off" button. Now you can switch off the air-con completely at one touch instead of repeatedly pressing the "fan down" button. Instead of having two "memory" buttons to save your preferred "cooling level" and fan speed settings, you now get just one button which you can toggle between two saved settings.
Built-in Dashcam
Perodua has also included an integrated driving video recorder (DVR) but it is only offered for the highest spec 1.5L AV model as standard. This looks like the same dashcam that's offered on the Ativa AV variant. Perodua has not revealed the specs but it appears to support up to 1440p resolution.
Auto high beam and Daytime Running Lights
A new addition to the Myvi is auto high beam which is available across all variants except for the cheapest model. When enabled, it will automatically switch to high beam when it is dark and there are no vehicles in front of you. It will switch to low beam when it detects a car in front or when the roads are well lit.
For the first time, Perodua is offering daytime running lights (DRL) as standard on the Myvi. However, the DRLs are only included on the higher 1.5L AV and H variant, while the lower 1.5L X and 1.3L G models get a blank cover in black.
Perodua Myvi 2022 Pricing
Overall, the new Myvi costs more than its predecessor but you get a significant safety upgrade that can help prevent you from getting into trouble. Below is the official on the road pricing without insurance in Peninsular Malaysia:
1.3L G (without Perodua Smart Drive Assist) – RM45,700
1.3L G (with Perodua Smart Drive Assist) – RM47,700
1.5L X – RM49,900
1.5L H – RM53,900
1.5L AV – RM58,800
The above prices are with the ongoing SST exemption which is offered until July 2022. Even if you're on a tight budget, it is best to avoid the cheapest model. The 1.3L G offers advanced safety features such as pedal misoperation control, autonomous emergency braking and lane departure prevention for merely RM2,000 more, which is definitely worth the upgrade.
What do you think of the new Myvi 2022? Is it a clear winner over the recent facelifted Proton Iriz and Persona? Let us know in the comments below.
source: soyacincau