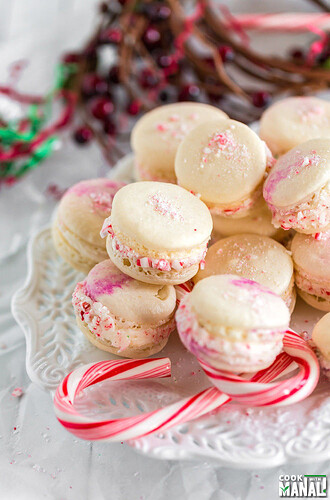 Image credit :
cookwithmanali
Prep Time: 1 hour Cook Time: 15 minutes Total Time: 1 hour 15 minutes
INGREDIENTS
Macaron shells
1 cup almond flour
1.5 cups powdered sugar
3 large egg whites, at room temperature
¼ cup granulated white sugar
¼ teaspoon cream of tartar
Peppermint frosting
1 stick unsalted butter, at room temperature
2 cups powdered sugar
½ teaspoon peppermint extract
½ teaspoon vanilla extract
2-3 tablespoons cream or milk
4-5 candy canes, crushed
pink food color (optional)
DIRECTION
Macaron shells
In a bowl mix together almond flour and powdered sugar.

Sift the mixture 3 times and set aside. This step is important for macarons to have that smooth top.

Separate eggs whites [they are best separated when cold] and keep them at room temperature for 2 hours before you start working on them. You can even leave them for 24 hours, this recipe does not work if egg whites are not at room temperature.

Beat the egg whites at high speed using the wire whisk attachment of your stand mixer or using your hand mixer.

When it begins to foam, add cream of tartar.

Keep beating till it reaches a shaving foam like consistency and then add the granulated sugar. Beat more till the egg whites develop stiff peaks and are shiny.

Fold in the almond flour-powdered sugar mixture into the egg whites using a spatula. Don't add the entire thing in one go, do it in 2-3 parts.

As you start mixing, the batter will be tough at first but will loosen up as you proceed. Do not undermix and do not overmix either.

The batter should not be runny but should still fall down from the spatula in a blob.

Transfer batter to pastry bag fitted with a ½ inch round tip. Add few drops of pink food color (optional) to the batter.

Pipe the batter onto the baking sheet lined with parchment paper making small blobs around an inch big.

After you have piped all the macarons, let them sit at room temperature for 30-45 minutes, do not bake them immediately. If you bake them immediately, they will not develop their trademark "feets".

As the macarons are resting, preheat your oven to 300 F degrees.

Bake at 300 F degrees for 15 minutes [time may vary depending on your oven].

Remove the pan from oven and let the macarons cool completely. Do not try to remove them before that.
Peppermint buttercream
To make the frosting beat butter using your stand or hand mixer till it turns pale, around 3 minutes.

Add powdered sugar ½ cup at a time, mixing well after each addition.

Add vanilla extract, peppermint extract and mix till well combined.

Add cream or milk, 1 tablespoon at a time till you get the desired consistency. I kept the frosting thick so didn't add too much milk, just enough to spread it.
Fill the macaron shell
Pipe the peppermint buttercream into piping bag fitted with round/star tip and fill the macarons shells. Don't overfill.

Crush few candy canes using a mortar & pestle or simple place them in a ziplock and give a nice whack with a rolling pin.

Roll the filled macarons over the crushed candy canes.

Enjoy peppermint macarons, they taste even better the next day!