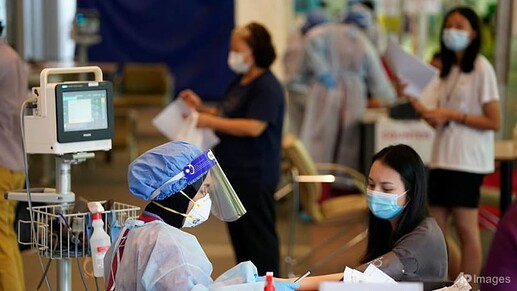 KUALA LUMPUR: Covid-19 vaccines have prevented 16,000 to 17,000 deaths in Malaysia over the last 15 months, a new modelling study has revealed.
Institute for Clinical Research director Datuk Dr Kalaiarasu Peariasamy said Malaysia starting seeing the significant benefits of vaccination after almost half of the population were fully vaccinated in September last year.
"The country reported 35,911 deaths due to Covid-19 since the outbreak.
"Majority of the victims were unvaccinated (61.7 per cent), followed by partially vaccinated (17.5 per cent) fully vaccinated (18.4 per cent) and those who have taken their booster shots (2.4 per cent).
"However, without vaccination, the model projection estimated that Malaysia could have potentially logged 52,149 fatalities in this period.
"Up to July 24, the country's high vaccination coverage averted 16,000 to 17,000 deaths," he told the New Straits Times.
Dr Kalaiarasu said the model projection also accounted for overall vaccination rates and adjusted for infection rates and case mortality rates observed in both the vaccinated and unvaccinated segments.
The virus, he said, claimed 4,278 lives between January and June this year from the 1,807,969 positive cases clocked in the same period.
"Based on the latest mortality statistics, 74 per cent of Covid-19 deaths in this period involved those aged 60 and above.
"At least 87 per cent of the victims reportedly had at least one underlying health condition," he said.
Malaysia's cumulative case fatality rate from January this year, he said, was at 0.24 per cent up to June 30.
This means that for every 10,000 people infected with Covid-19, 24 are likely to die.
Since the Covid-19 pandemic struck Malaysia two years ago, 4,654,951 people have been infected with the virus and 4,572,712 have recovered.
The National Covid-19 Immunisation Programme, which kicked off on Feb 24 last year, saw 98 per cent of the adult population innoculated.
According to the Health Ministry's CovidNow portal, nearly half of the country's population, or 16,176,976 people, have received the first vaccine booster shot up to Monday.
Last week, Health Minister Khairy Jamaluddin said healthy individuals aged 50 to 59 could get the second booster shot.
This, he said, was the sixth group eligible for the second booster jab following people aged 60 and above with comorbidities, those aged 60 and above without comorbidities, individuals living at long-term care facilities, individuals aged 18 to 59 with comorbidities, frontliners and travellers going abroad.
Only the Pfizer vaccine is used for the second booster dose.
Up to Monday, 294,542 people have taken the second booster shot.
Source: New Straits Times
Image: AP Image / Vincent Thian