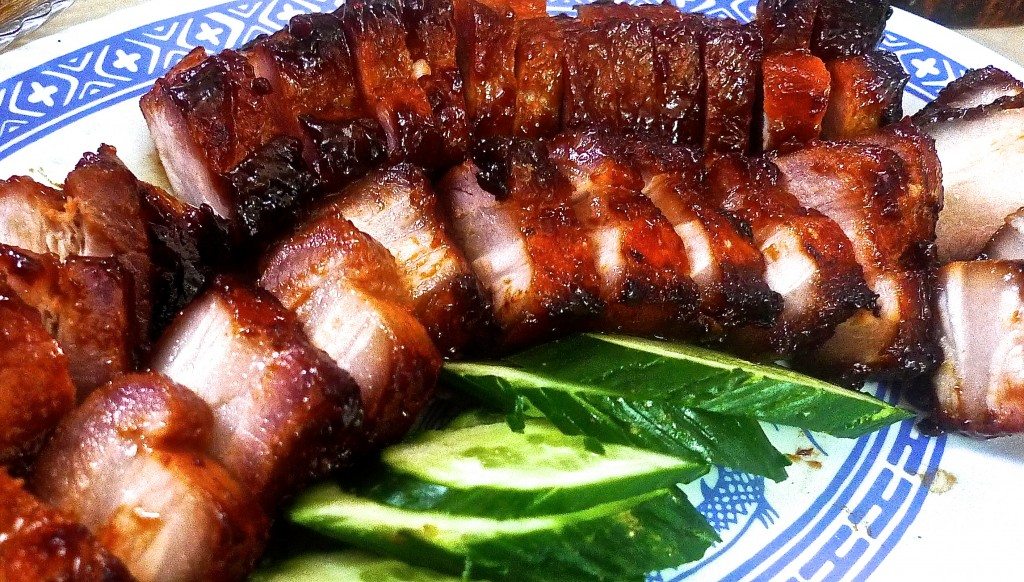 Image credit:
HuangKitchen
Yield: 3 servings
Preparation: 15 minutes
INGREDIENTS
800g pork belly (Cut into large long strips 3cm thick, skinless)
For the Marinade:
15 grams sugar
15 grams taucho or Yellow bean sauce
15 grams Hoi Sin sauce
15 grams Oyster sauce
1Tablespoon Black sauce
1 1/2piece Reddish cheese or nam yue
30 grams Chinese cooking wine
15 grams Garlic Chopped
7.5 grams Shallot Chopped
4.2gramsSesame oil
1 Egg
Malt Syrup
25ml water (Cook malt sugar with water until sugar dissolve. Leave to cool)
100g Malt sugar
DIRECTION
Rinse the pork belly and pat dry. Using a fork, prick some holes on the pork. This helps the marinade to penetrate into the meat for more flavour.
Add all marinade into a mixing bowl. Mix until well combined.
Add in the pork. Blend well so the pork strips are coated well. Cover to marinate for at least 2 hours, turning occasionally. Preferably keep overnight in the fridge.
Remove from fridge and leave at room temperature for about 1 hour before baking. Preheat oven to 220 degree C. Arrange the marinated pork strips on roasting rack. Foil a baking tray at the bottom to capture the dripping sauce during the roasting process. Bake for 15 minutes.
While waiting, cook the remaining marinated sauce together with the malt syrup over low heat. Do stir constantly and cook until the sauce thickens. This takes about 5 minutes. This is the char siu sauce.
Once the 15 minutes roasting time is over, bring out the meat and brush the char siew sauce on the meat surface. Turn the meat over and do the brushing all over the other side. Put it back in the oven and continue to roast another 6-7 minutes. Repeat another 4 times. Roast until the pork is slightly charred.
Serve, allow the cha siu to cool for about 10 minutes before cutting it across the grain into thin or thick slices to your preference. Serve with the sauce.
2020-05-09T16:00:00Z