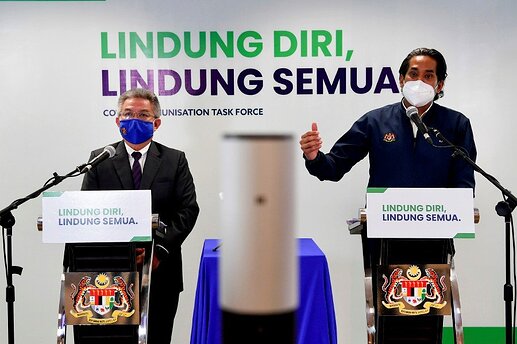 KUALA LUMPUR: Only digital certificates issued via the MySejahtera application for fully vaccinated individuals are available for now.
Covid-19 National Immunisation Programme (NIP) coordinating minister Khairy Jamaluddin said the government has yet to issue a printed card to certify individuals who have received both doses of the vaccine.
"There are no physical cards issued, only the digital certificates issued by the government in MySejahtera.
"The MySejahtera digital certificate can be printed from the Special Committee on Covid-19 Vaccine Supply Access Guarantee (JKJAV) official website.
"Also, the vaccination cards that are given at the vaccination centres (PPVs) are allowed to be used. Nothing else," he said at the Covid-19 Immunisation Task Force (CITF) virtual press conference today.
On March 17, Health Minister Datuk Seri Dr Adham Baba said Covid-19 vaccination badges will be issued to those who have been fully inoculated against the virus.
The badge, which is equipped with a security code to prevent it from being duplicated will have fully vaccinated individuals' personal details, and will be issued in card form.
Dr Adham said the ministry is currently awaiting the cabinet's approval before it can be issued to the public.
Source: New Straits Times