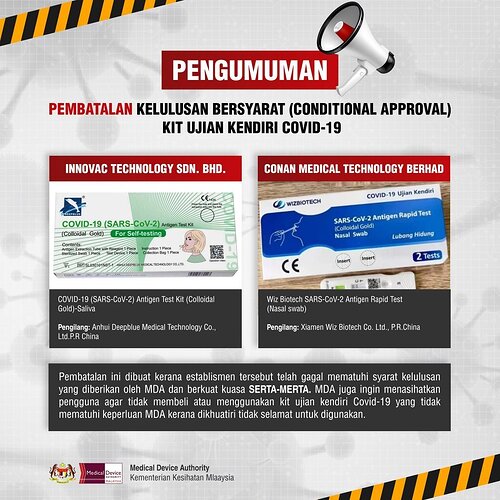 PETALING JAYA: The health ministry's Medical Device Authority (MDA) has revoked the conditional approval for two Covid-19 self-test kits manufacturers in the market effective immediately.
The test kits are those produced by manufacturers Innovac Technology Sdn. Bhd. under the brand name Deepblue, and Conan Medical Technology Berhad, with the brand name Wiz Biotech.
"MDA would also like to advise consumers not to purchase or use Covid-19 self-test kits that do not comply with MDA requirements for safety purposes," the agency said.
The MDA said the two companies had failed to comply with the conditions of approval given by the agency.
RTK-antigen (RTK-Ag) self-test kits are useful for fast detection and quick isolation, especially when dealing with the current Omicron wave and future variants.
Health minister Khairy Jamaluddin said the MDA had tested 22 Covid-19 test kit brands following complaints. "So far, MDA has received results for 12 brands and two did not comply with the requirements."
Source: Free Malaysia Today