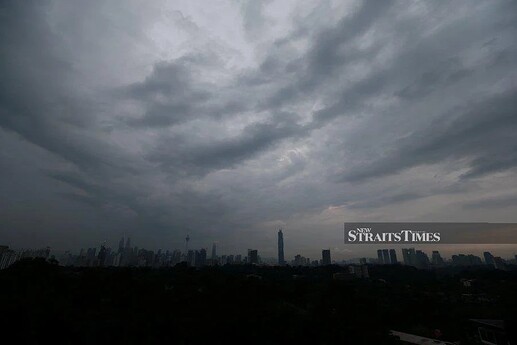 KUALA LUMPUR: The Malaysian Meteorological Department (MET Malaysia) today issued a warning that the Northeast monsoon will hit the country earlier than expected.
The department estimated that the northeast monsoon is expected to begin from Tues (Nov 7) and continue until about March next year.
About four to six episodes of monsoon rains, which will carry continuous, heavy downpour, are expected to occur throughout this period.
"As with previous monsoon seasons, continuous heavy rain for even a few days have been known to cause catastrophic floods in low-lying areas and areas close to rivers.
"If the continuous heavy rains happen simultaneously with the high tide phenomenon, then the risk of floods happening will definitely increase," warned the department.
The high tide phenomenon is expected to happen within the periods of Nov 6 – 11; Nov 22 – 27; Dec 7 – 12; Dec 22 – 26; as well as Jan 6 – 10 and Jan 21 – 25 next year.
During the northeast monsoon season, northeasterly winds are expected to blow continuously, bringing about rough seas and big waves in the South China Sea.
Members of the public are advised to brace themselves and be prepared to face the monsoon season as well as be alert for the latest information, advisory and weather warnings issued by the department through various channels including via its website www.met.gov.my, the MyCuaca Mobile App, and social media channels (Facebook, Twitter dan Instagram).
For further enquiries and information, members of the public can call the Department's hotline, 1-300-322-1638.
Source: New Straits Times