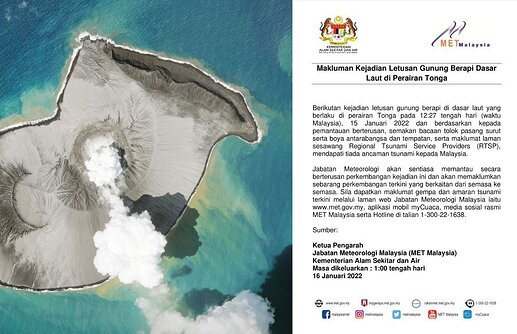 KUALA LUMPUR: The Malaysian Meteorological Department (MetMalaysia) assured that there is no tsunami threat here following a massive underwater volcanic eruption in Tonga yesterday.
The department said based on continuous monitoring, tide gauge readings, international and local buoys as well as information from the Regional Tsunami Service Provider's website, there was no indication of a tsunami threat to Malaysia.
"The department will continue to monitor the progress of this incident and will keep the people informed from time to time," it said today.
The underwater volcano located 65-kilometres north of Tonga capital Nuku'alofa erupted at 12.27pm yesterday (Malaysia time) triggering tsunamis in Tonga, Hawaii and Japan.
Anadolu Agency (AA) reported a 1.2-meter tsunami in the city of Amami, while a 1.1-meter tsunami arrived in the Iwate Prefecture.
The Japan Meteorological Agency warned that a 3-metre tsunami may hit some of Japan's southwestern islands.
The Tsunami Warning Centre of the US National Weather Service issued a tsunami warning for the western coast of US and Canada after the volcano eruption.
Source: New Straits Times