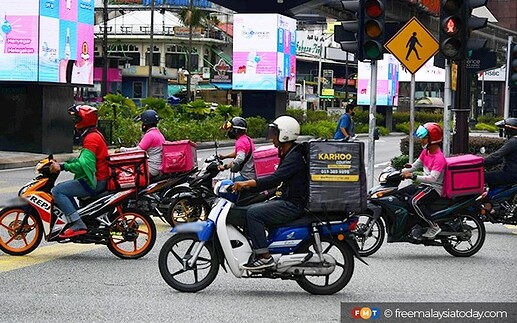 PETALING JAYA: Parcel delivery riders will need to obtain the Goods Driving Licence under new legislation being proposed by the government.
The age of eligibility for the licence would be lowered from 21 years to 18 when the new rules come into force, to allow more people to become delivery riders, transport minister Wee Ka Siong said today.
He said delivery riders with the goods licence would be given driving courses "because there are complaints that they do not abide by traffic laws".
Wee said the requirement of a goods licence would allow the authorities to keep track of their number, and "know who are those working in the p-hailing service and their behaviour", Bernama reported.
He said the Cabinet had agreed on Friday to amend the legislation governing road transport, land transport and the Commercial Vehicles Licensing Board. The amendments will be tabled at the next meeting of Parliament.
Wee said the requirement for a goods licence was not meant to burden delivery riders but to enable the transport ministry to keep track of their numbers.
He said the transport ministry and its agencies would monitor the p-hailing service to ensure this sector could remain competitive in the long term.
"The supervision is also to protect the welfare of riders or drivers of the vehicles involved," he said after a meeting with representatives of the e-hailing and delivery riders' associations today.
He said e-hailing operators had been asked to hold more meetings with riders to avoid issues like riders going on strike because of dissatisfaction over payments.
On Friday, a group of about 200 delivery riders carried out a protest ride to the service company offices, Posters with the words "Off 1 Hari" and "Food Delivery Blackout" had been widely shared on social media, calling for a boycott of the delivery service.
Source: Free Malaysia Today