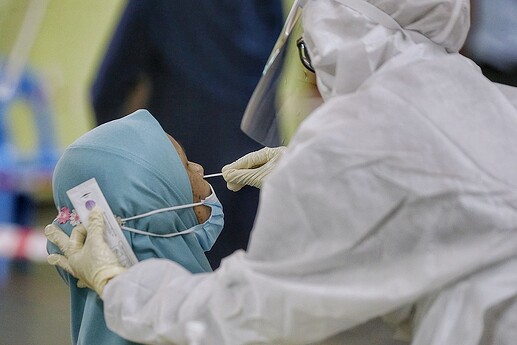 KUALA LUMPUR, May 19 — New Covid-19 infections skyrocketed today to a record high of 6,075 new cases reported over the last 24-hour period, while 46 more deaths brought fatalities past the 2,000 mark.
A tweet by Health director-general Tan Sri Dr Noor Hisham Abdullah revealed more than one-third of new cases, or 2,251 were detected in Selangor alone, followed by 699 in Johor and 660 in Kuala Lumpur as the top three states.
The tweet also listed 445 new cases reported in Kedah, 441 in Kelantan, 323 in Sarawak, 220 in Perak with and 203 in Terengganu.
The previous record for the most cases detected over a day was on January 30 with 5,728 infections, with the nationwide total now at 485,496 Covid-19 cases.
Dr Noor Hisham's full statement later said active cases now stand at 47,340, where 559 patients are admitted to intensive care units, the highest figure since the pandemic began, and 303 of them requiring breathing assistance.
He said today's deaths brought the nationwide death toll to 2,040, with more than 40 fatalities reported over the last three days, and with the fatality rate currently at 0.42 per cent.
Today's deaths were reported in Selangor (19), Kuala Lumpur (2), Kedah (2), Kelantan (4), Sabah (2), Sarawak (7), Johor (6), Penang (2), Melaka (1), and Negri Sembilan (1).
The deaths involved individuals aged between 17 and 91; the teenager a Malaysian suffering from leukaemia who died in Hospital Ampang, and today's oldest, a 91-year old woman in Sarikei, Sarawak who was suffering from diabetes, hypertension and lung disease.
Meanwhile, 3,516 more patients were cured and discharged by the Health Ministry, bringing the recovery rate to 89.9 per cent with 436,116 recoveries to date.
Also reported were 22 more infection clusters, the highest number detected over a single day, spread across Selangor, Sarawak, Terengganu, Johor, Melaka, Labuan, Perlis, Kelantan, Kuala Lumpur, Sabah, Perak, and Johor.
To date, there have been 1,942 Covid-19 clusters reported nationwide, with 516 of those still reporting new infections, and 1,426 declared ended.
Source: Malay Mail