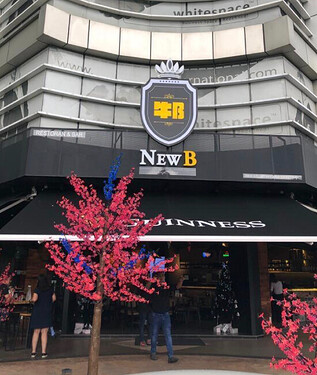 Source : Google Review
Location:
E-G-22, IOI Boulevard, Jalan Kenari 5, Bandar Puchong Jaya, 47100 Puchong, Selangor
Operating Hours:
Monday to Sunday: 2:00 PM - 12:00 AM
Introduction:
New B, the latest addition to the Walnut Group, introduces an innovative franchise concept that merges the beloved elements of Walnut Cafe and Bistro. Embracing a unique forest theme, New B restaurant exudes a welcoming and lively ambiance for all guests. Our primary goal is to offer top-notch service at an affordable price, complemented by a diverse menu of delectable dishes, ensuring everyone's taste buds are satisfied. Step into New B, where delightful culinary experiences and a comfortable environment come together harmoniously.
What to Expect:
If you're a fan of succulent steaks and fresh seafood, New B is the place to be. Their steaks are cooked to perfection, and the seafood dishes are prepared with care to retain their natural flavours. New B's forest-themed design creates a relaxed and welcoming ambiance, making it a perfect place to unwind with friends or have a cozy dinner with loved ones.
Conclusion:
Overall, New B Restaurant & Bar in Puchong provides a combination of delectable food, delightful drinks, and a comfortable environment, ensuring a fantastic dining experience. Whether you're a food enthusiast or looking for a great place to relax and socialize, New B has something special to offer.