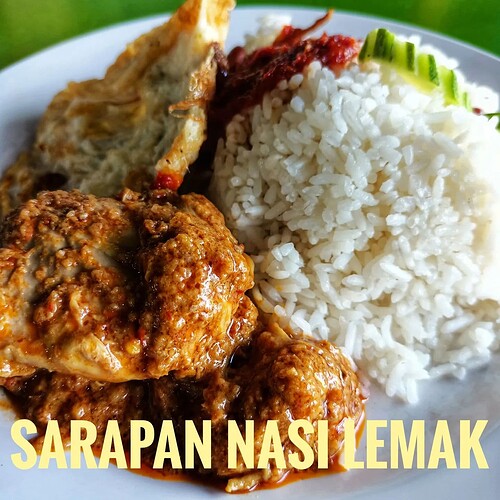 Image Source :
Facebook Nasi Lemak Kak Yah
Location:
Pusat Penjaja Taman Putra Perdana, Puchong, Malaysia
Operating Hours:
Monday - Sunday : 6:00 AM - 1:00PM
Introduction :
Nasi Lemak Kak Yah is a renowned culinary establishment that has gained a loyal following for its delectable nasi lemak, a popular Malaysian dish. Located in Puchong, Selangor, this humble eatery offers an authentic taste of traditional nasi lemak that is sure to delight your taste buds. The fragrant coconut rice, accompanied by a variety of flavorful condiments such as sambal, fried chicken, anchovies, and peanuts, creates a harmonious blend of flavors and textures. Nasi Lemak Kak Yah takes pride in using quality ingredients and preparing each dish with care and passion.
Location and Accessibility :
Nasi Lemak Kak Yah is conveniently located at Pusat Penjaja Taman Putra Perdana in Puchong, Malaysia. This bustling food center offers easy accessibility for locals and visitors alike. Situated in the vibrant neighborhood of Taman Putra Perdana, the restaurant is surrounded by various amenities and is easily reachable by public transportation. Whether you prefer to drive or commute, you'll find ample parking spaces available, making it convenient for you to satisfy your nasi lemak cravings at Nasi Lemak Kak Yah.
Operating Hours :
Nasi Lemak Kak Yah is open seven days a week to cater to your cravings for their delicious nasi lemak. From Monday to Sunday, the restaurant welcomes customers from 6:00 AM to 1:00 PM, ensuring that you can start your day with a scrumptious and fulfilling meal. Whether you're an early riser looking for a hearty breakfast or someone craving a flavorful lunch, Nasi Lemak Kak Yah is there to satisfy your appetite.
What to expect :
Customers visiting Nasi Lemak Kak Yah can expect a delightful dining experience filled with authentic flavors and a wide variety of nasi lemak options. As a popular establishment, the restaurant is known for serving delicious and fragrant nasi lemak, a traditional Malaysian dish consisting of coconut rice served with an array of flavorful condiments such as sambal, fried chicken, fried anchovies, peanuts, and boiled eggs. Customers can expect generous portions and quality ingredients that showcase the rich and aromatic flavors of Malaysian cuisine. With its reputation for mouthwatering nasi lemak, customers can anticipate a satisfying meal that captures the essence of this beloved dish. The warm and friendly staff further enhance the dining experience, providing attentive service and ensuring that customers feel welcomed and well taken care of.
Conclusion :
Nasi Lemak Kak Yah is a must-visit restaurant for all nasi lemak enthusiasts. With its authentic flavors, generous portions, and warm hospitality, it offers a delightful dining experience that satisfies the cravings for this beloved Malaysian dish.