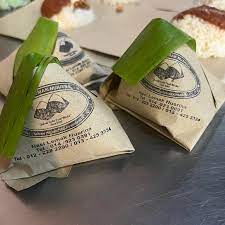 Location:
No. 41G, Jalan Tpk 2/8, Taman Perindustrian Kinrara, 47180 Puchong, Selangor
Operating Hour:
Monday - Friday 6:30am - 6:30pm
Saturday - Sunday 6:30am - 5:00pm
Introduction:
Welcome to Nasi Lemak Daun Pisang Nuarina in Puchong, a culinary gem that promises to tantalize your taste buds with the authentic flavors of Malaysia. Nestled in the heart of Puchong, our eatery is renowned for serving the beloved Malaysian dish, Nasi Lemak, wrapped in fragrant banana leaves.
What to Expect:
At Nasi Lemak Daun Pisang Nuarina, expect a culinary journey steeped in tradition. Prepare your palate for the aromatic scent of coconut rice, paired perfectly with spicy sambal, crispy anchovies, succulent chicken, and an array of flavorful accompaniments. Each bite is a celebration of Malaysia's diverse culinary heritage, and our commitment to quality ensures an unforgettable dining experience.
Conclusion:
In conclusion, Nasi Lemak Daun Pisang Nuarina offers more than just a meal; it offers a cultural and gastronomic adventure. With its dedication to preserving the authentic taste of Nasi Lemak and providing a warm, welcoming ambiance, our restaurant ensures that every guest leaves satisfied and with a deeper appreciation for the rich flavors of Malaysia.