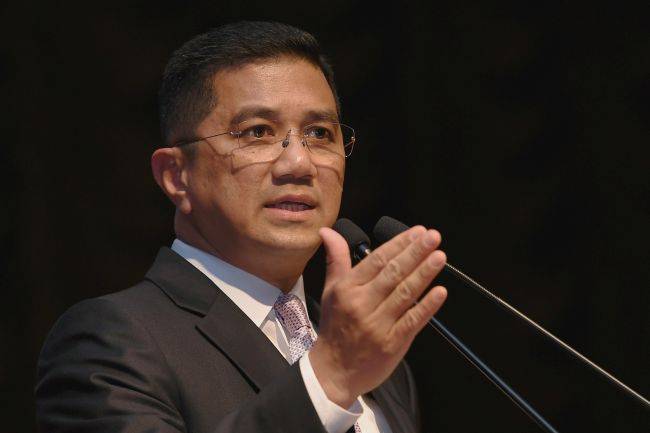 image source: thestar
PETALING JAYA: The International Trade and Industry Ministry has agreed to allow a maximum of 10% of those in management and supervisory posts to work on site.
This followed a government work from home (WFH) directive on Tuesday (Oct 20) for public and private sectors in areas under the conditional movement control order (MCO).
Its minister Datuk Seri Azmin Ali (pic) said this could cover tasks such as accounting, finance, administration, law, planning as well as information and communications technology (ICT).
They will be limited to being physically present at their workplaces for four hours only from 10am-2pm for three days in a week.
"Companies do not need to submit applications for this purpose. Employers only need to issue a travel release letter for each employee who is allowed to work during the conditional MCO.
"Employers need to set appropriate WFH guidelines according to the needs of their respective companies," he said in a statement on Wednesday (Oct 21).
Azmin said that based on the ministry's Covid-19 Intelligent Mangement System (CIMS) database, the number of employees registered in the manufacturing, services and construction sectors in Sabah, Labuan, Kuala Lumpur, Selangor and Putrajaya totalled 3.1 million people.
Following feedback from the industry, a total of 776,135 or 25% of workers were from supervisory and management posts.
Azmin said the ministry would immediately implement the decision by the National Security Council (NSC) for the industry to introduce a WFH policy for management and supervisory staff to reduce the risk of transmission of the Covid-19 pandemic.
He added that the government would continue to work with the private sector and industry in an effort to enhance the implementation of WFH in line with the "new normal".
"MITI will continue to closely monitor and enforce the implementation and compliance of SOPs among the industry," said Azmin.
On Tuesday, Senior Minister Datuk Seri Ismail Sabri Yaakob said that nearly one million private and public sector workers who are in the management and supervision categories in Selangor, Sabah, Kuala Lumpur and Putrajaya have been directed to work from home effective Thursday (Oct 22).
"This is a directive, not a proposal or a suggestion by the government. Workers in several categories will work from home," he said.
The government's work from home directive, which will affect a million workers in the public and private sectors, is aimed at containing Covid-19 infections in areas placed under the conditional MCO.
Senior Minister Datuk Seri Ismail Sabri Yaakob had said on Tuesday that those who are to work from home beginning Oct 22 until the conditional MCO are mainly those employed in the management and supervisory posts.
Currently, the conditional MCO is enforced in Sabah as well as Selangor, Kuala Lumpur and Putrajaya.
Sabah's conditional MCO is expected to end on Oct 26, while the order is until Oct 27 for Klang Valley and Putrajaya, subject to the government's decision on the need for a further extension.
Source: thestar