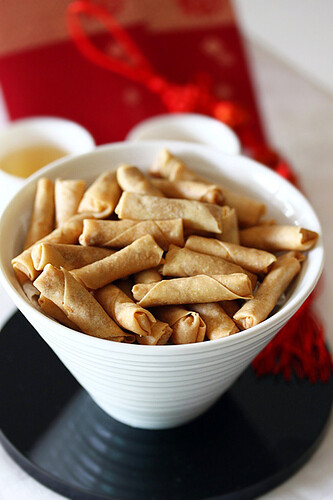 INGREDIENTS
1 packet frozen spring roll skin (medium size) (40 pcs)
100 g ready made chicken or pork floss
1 egg, lightly beaten, for egg wash
oil, for deep frying
DIRECTIONS
Cut each of the spring roll wrappers into 4. Lay the skin on a flat surface. Put 1 teaspoon of the chicken floss at the center of the skin. Fold in the two sides and roll it up tightly. Seal the edges with the egg wash.

Heat up your wok with enough cooking oil. Once the oil is fully heated up, fry the mini spring rolls on medium heat until golden brown. It takes about 3-5 minutes. Dish out and drain the oil.

Leave to cool. Make sure the spring rolls are completely cool before keeping it in airtight container. This will ensure that the spring rolls remain crispy.