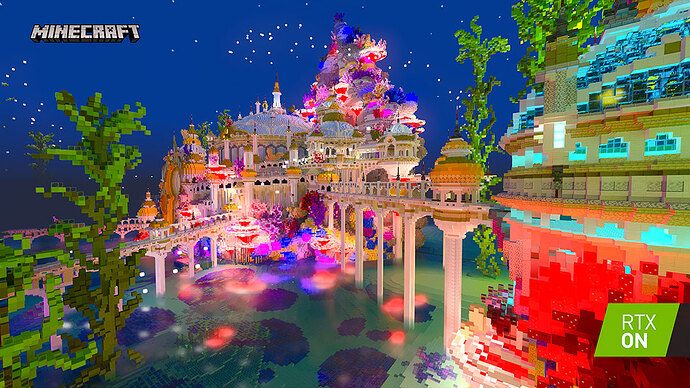 Minecraft with RTX Beta on Windows 10 is now available to download and play! Minecraft with RTX brings fully path-traced rendering, physically-based materials, and NVIDIA DLSS 2.0 to Minecraft, delivering bleeding-edge visual fidelity and realism that can be experienced on all GeForce RTX GPUs.
To demonstrate the full capabilities of Minecraft with RTX's new technologies, which deliver unbelievable sights with jaw-dropping, previously-impossible-to-achieve effects, we have worked with Minecrafters to create 6 stunning Creator Worlds, downloadable for free from the in-game Minecraft Marketplace:
Aquatic Adventure RTX
Of Temples and Totems RTX
Crystal Palace RTX
Imagination Island RTX
Color, Light and Shadow RTX
Neon District RTX
The results of Minecraft with ray tracing are astounding – realistic hard and soft shadows are seen everywhere; global illumination realistically lights the world, with that light filling interiors through windows and gaps in the terrain; illuminated blocks and other light sources cast pixel-perfect lighting; reflections are seen on all reflective surfaces and blocks, with a level of fidelity far surpassing that of screen space reflections; light reflects, refracts and scatters through water, ice, stained glass, and other transparencies; and atmospheric effects occur naturally, resulting in high quality volumetric fog, and pixel-perfect god rays. You can see the images which switching on with RTX in the full article by clicking the link below.
---
[Read the full article here => The Minecraft with RTX Beta Is Out Now! | GeForce News | NVIDIA]


Sources: NVIDIA GeForce